Myra Greene, Spelman College – Representations of Race and Our Understanding of Color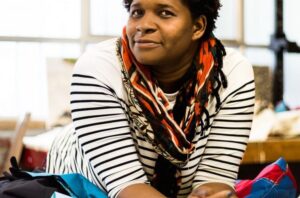 On Spelman College Week: How we perceive colors can have a big impact.
Myra Greene, professor in the department of art and visual culture, explains this statement visually.
Greene uses a diverse photographic practice and fabric manipulations to explore representations of race. Greene is currently working on a new body of work that uses African textiles as a material and pattern as well as color as medium to explore her own relationship to culture. Her work is in the permanent collection of Museum of Contemporary Photography in Chicago, Museum of Fine Arts in Houston, The National Gallery of Art in Washington D.C., the Nelson-Atkins Museum of Art, Kansas City, the Princeton University Art Museum and the Studio Museum in Harlem. Myra Greene's work has been featured in nationally exhibitions in galleries and museums including The New York Public Library, Duke Center for Documentary Studies, Williams College Museum of Art, Museum of the African Diaspora in San Francisco, and Sculpture Center in New York City. Myra Greene was born in New York City and received her B.F.A. from Washington University in St. Louis and her M.F.A. in photography from the University of New Mexico. Myra is a Professor of Photography, and the Chair of the Department of Art & Visual Culture at Spelman College. She is represented by Patron Gallery in Chicago, and Corvi-Mora in London.
Representations of Race and Our Understanding of Color

Utilizing photography and textiles, my artistic work explores representations and abstractions of race and the body and focuses on how our understanding of color is completely dependent on its context – materially, culturally, and historically.
My recent bodies of work consider the appearance of the color brown. In the project Undertone, I engage self-portraiture and the historic analog process of ambrotypes which is an exposed positive photograph on glass. Using a large format camera, I photograph sections of my face, which are recorded onto deep tones of violet, amber, or green glass plate, colors that mimic my own black skin. These images recall early mugshots, and rebuke practices of physiognomy, the practice of assessing a person's character or personality from their outer appearance.
The color of their presentation impacts the appearance and presence of the image, as the image appears and retreats in the reflection of the glass. In this form my portraits are visible and invisible, colored and clear, all contingent upon the light and angle at which they are seen; proving that context is pivotal.
Piecework my ongoing textile project examines the black experience and culture through the material compositions of shape, color and form, and their ability to create an abstraction based in illusion. To achieve this, I dye fabrics their complementary color to create a smooth transition to brown, which emerges as a composite, a beautiful blend of information. Then, I silkscreen digitally stitched multicolored patterns onto fabric to create a map-like motif, laden with cultural and historical references.
These works emphasize the power of color and shape, and their ability to create an abstract way of visualizing identity politics.