Brian Mailloux, Barnard College – Using Wastewater to Protect College Campuses during the Pandemic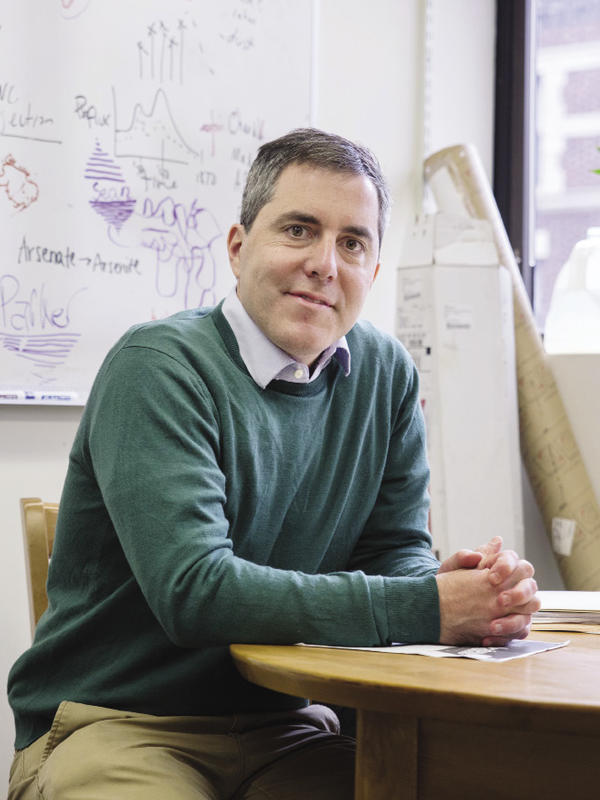 Wastewater is a great early warning sign for COVID outbreaks.
Brian Mailloux, professor in environmental science at Barnard College, samples this method for testing.
Professor Brian Mailloux joined the faculty of Barnard College, the NYC women's college affiliated with Columbia University, in January 2006. His research areas is groundwater microbiology with a focus on naturally occurring arsenic.  He has published widely and has taught courses on Big Data, ecotoxicology, environmental measurements, and water, sanitation, and health. He is a member of the Geological Society of America and the American Geophysical Union.
Using Wastewater to Protect College Campuses during the Pandemic

Most science professors never get the chance to apply their research to their own college while also trying to help keep the campus safe. I have been fortunate to lead a team of faculty, staff, and students that are monitoring the wastewater for the novel coronavirus. From the first days of the pandemic it was known that people shed the virus and it can be monitored in wastewater. The first studies occurred in the Netherlands and were published in May 2020. The method was quickly adopted by researchers around the world.
The method is so powerful because wastewater is relatively easy to collect and gives you a snapshot of the health of the population using that sewer. In addition, the concentration of SARS-CoV-2 in wastewater can serve as an early warning system to help us detect an impending outbreak. This occurs because of both biological and structural factors.  People tend to shed the virus before they are symptomatic or tested. Also, the time required to collect and process COVID-19 tests can delay identification of an outbreak. Given all this information, many colleges and universities have implemented a wastewater sampling program to help protect campuses and the surrounding community.
An early success occurred when the university of Arizona was able to pinpoint, test, and then stop an outbreak in a dorm. More recent studies have been able to sequence different variants in the wastewater; these methods are not yet routine, but we are trying. We have been able to simplify some of the concentration steps yet have retained both the sensitivity and reproducibility in our methods. This is enabling students to become critical members of our team. The sampling program targets a variety of buildings in order to protect different campus populations. Furthermore, our sampling design should help us to better understand fecal shedding along with how to safely quarantine students while slowing the spread of the virus.