Angelino Viceisza, Spelman College – Using Media to Spur Entrepreneurship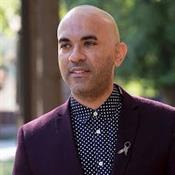 On Spelman College Week: Do the media impact the startup economy?
Angelino Viceisza, associate professor in the department of economics, looks into the shark tank to find out.
Dr. Angelino Viceisza is an associate professor of economics at Spelman College, a research associate of the National Bureau of Economic Research (NBER), and a board member of the National Economic Association. During the 2020-21 academic year, he will be visiting the Hoover Institution at Stanford University as a W. Glenn Campbell and Rita Ricardo-Campbell National Fellow and the John Stauffer National Fellow.
His research examines the microeconomics of poverty and wealth creation, particularly in developing countries. He has written papers on (1) the determinants and impacts of entrepreneurship and innovation; (2) norms and preferences as potential drivers of poverty; (3) determinants of financial remittances; and (4) the impact of insurance on risky investment. This work has taken place in Ethiopia, Peru, Senegal, the United States, and Vietnam among others.
Dr. Viceisza's research has been published in peer-reviewed journals such as Economic Inquiry, Experimental Economics, Journal of Development Economics, Journal of Economic Behavior and Organization, Journal of Economic Surveys, Review of Black Political Economy, and Small Business Economics. He has received support from agencies such as the German Federal Ministry for Economic Cooperation and Development, the Kauffman Foundation, the National Science Foundation (NSF), the United States Agency for International Development (USAID), the US Department of Education, and the World Bank.
During the 2015-16 academic year, Dr. Viceisza visited the Economics Department at Duke University while on research leave and in 2014, he visited the Research Department at the Federal Reserve Bank of Boston as a Fellow of the American Economic Association's Committee on the Status of Women/Minority Groups in the Economics Profession. From 2013-16, Dr. Viceisza was a Fellow of the Diversity Initiative for Tenure in Economics (DITE) supported by the Research Network on Racial and Ethnic Inequality and the Economics Department at Duke as well as NSF. He maintains an affiliation with the International Food Policy Research Institute (IFPRI) in DC where he was a Post-Doctoral and a Research Fellow from 2007-12.
Dr. Viceisza currently teaches behavioral game theory and intermediate microeconomic theory. He has a solid track record of involving students/junior professionals in his research projects, as evidenced by VLab. Dr. Viceisza's former research assistants and students have ended up in graduate programs at Columbia University, Georgia State University (GSU), New York University, and University of Maryland, College Park as well as organizations such as Accenture, Atlanta Community Food Bank, Brookings Institution, CARE, Delta Airlines, Dropbox, Federal Reserve Bank of Chicago, Mathematica, and Wells Fargo.
Dr. Viceisza obtained his Ph.D. in economics from GSU in 2008. He holds two Masters in economics (GSU, 2005, and Boston University, 2004), an MBA in international business (Temple University, 2001), and a bachelor's degree in accounting (formerly, University of the Netherlands Antilles, 2001).
He is fluent in English, Spanish, Dutch, and Papiamento, and is basic in French.
Using Media to Spur Entrepreneurship

Entrepreneurship and innovation are widely argued to be important drivers of growth in the United States economy.
Many attempts to stimulate startup activity have been tried at the local, regional, and national level, but most have had mixed success.
One reason may be that most policies target those who have already decided that they are interested in starting a new business.
My research project tests the effectiveness of an alternative mechanism for stimulating entrepreneurship – the media.
Specifically, we use Nielsen ratings data to ask whether greater local popularity of the ABC show – Shark Tank – is associated with more local startup activity across the United States.
To measure startup activity, we primarily examine data from three sources: the US Small Business Administration, the National Establishment Time Series, and the US Patent and Trademark Office.
We find that watching Shark Tank seems to encourage people who are unfamiliar with entrepreneurship to explore it, but it does little to change an individual's fundamental underlying propensity to be an entrepreneur.
In particular, when Shark Tank viewership goes up, more people seek out advice at Small Business Administration Centers. However, watching the show has almost no association with the creation of new businesses and the development of patents.