Samuel Lyndon Gladden, University of Houston Clear Lake – Masked Manners: Pandemic Politeness and the New Normal of Non-Expression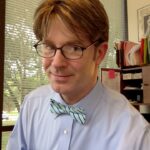 Wearing masks due to COVID-19 has changed how we interact with each other.
Samuel Lyndon Gladden, professor of literature at the University of Houston-Clear Lake, surveys our new masked manners.
Samuel Lyndon Gladden, Ph.D., is Associate Dean and Professor of Literature in the College of Human Sciences and Humanities at the University of Houston-Clear Lake. His expertise is in nineteenth-century British literature as well as in literary theory and cultural studies. Dr. Gladden's publications include books on Percy Shelley and Oscar Wilde. His more recent work has focused on David Bowie. His topic for "The Academic Minute" extends the subject of a course Dr. Gladden recently taught at UHCL, "Literature and the Imagination," which focused on being human and the meaning of the human condition.
Masked Manners:  Pandemic Politeness and the New Normal of Non-Expression

The radical interruption of the commonplace of interpersonal engagement is one of the most jarring ways in which COVID-19 has reshaped humanity, leaving us to figure out how to navigate niceties in our strange new world. It's bizarre enough that we mark time at home by changing from "daytime pajamas" to "pajama pajamas," but now, when we go out into what used to be the real world, we have to remember how to get dressed—and, in more and more instances, we don masks.
Pre-pandemic, most of us were unaware of how much expression depended upon the lower half of our faces, that half now typically covered, unseen.
Masks mask our emotions. Equally frustratingly, masks send a mixed message: we care about the safety of those around us, but we are defensive. After all, in the age of the novel coronavirus, everyone is suspect. No one seems friendly in a mask, and everyone is nervous these days, so looks have become furtive, eye contact rare. As the pandemic has heightened paranoia, many of us, masked, increasingly avoid eye contact, perhaps in an unconscious wish not even to see the person who might pose the threat of infection, that potentially fatal friend or foe who stands disturbingly near, socially distanced or not.
COVID-19 will lead us to develop new modes of self-expression, new forms of etiquette. I call this "pandemic politeness" or "the manners of the mask." In these alien days of relative isolation, we have good reason to explore new modes of expression, to innovate avenues for communication, to develop new opportunities for connection. As the pandemic changes forever what it means to be human, pandemic politeness may expose masked manners as the most revealing manners of all.