Jeanne Carey Ingle, Bridgewater State University – "I Was Never Prepared for This": Teaching in the Time of COVID-19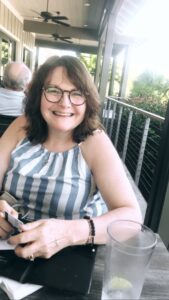 Teachers face an uncertain future in the face of COVID-19.
Jeanne Carey Ingle, associate professor in the department of elementary and early childhood education at Bridgewater State University, details some challenges and strategies educators have used to keep everyone's heads above water.
Jeanne Carey Ingle, Ph.D., is an associate professor of Elementary and Early Childhood Education at Bridgewater State University (MA). She is relatively new to higher education after working for many years as an urban elementary school teacher. She teaches courses in elementary education, inequality in education, educational technology, and English learner education. In addition, she coordinates student teaching experiences and undergraduate research programs. Her research includes teacher experiences during remote emergency teaching, best methods for supporting English learners, increasing access to undergraduate research for marginalized groups and using immersive technologies to prepare pre-service teachers. Follow Dr. Ingle on Twitter @careyingle
This research project was done in collaboration with three other talented professors at Bridgewater State University. Dr. Andrea Cayson, associate professor, is Graduate Program Coordinator for Elementary and Early Childhood Education. Her research is focused on supporting English learners and best practices of teacher education. Dr. Heather Pacheco-Guffrey is an associate professor and teaches undergraduate and graduate courses in science, technology, and engineering methods for pre- and in-service teachers. Heather's research is focused on educator TPACK and how teachers use technology across domains to support the wide range of learners. Dr. Melissa Winchell is an associate professor in the graduate and undergraduate programs in Secondary Education and Professional Programs. She is a veteran of Massachusetts urban public education. Melissa's research interests are in antiracist education. Follow Melissa on Twitter @melissawinchell.
"I Was Never Prepared for This": Teaching in the Time of COVID-19

As the United States educational system abruptly moved to remote instruction in the Spring of 2020, teachers were told to prepare to teach their students online. My research partners and I realized that this moment in the history of education had to be captured. So we began with a simple premise: ask teachers about their experience during this wild and unprecedented change. Over 700 prek-12 teachers responded to our survey.
Their responses have been generous and at times both hopeful and sad. The biggest challenges faced by our teachers:
Technology: kids don't have it, it's not dependable and everyone's trying to learn it .
Meeting the needs of all learners: kids with special education needs, kids who speak English as a second language, kids who are homeless and living in shelters, kids who have to work or care for younger siblings
The challenge of Well-Being : Teachers worry about their students, especially the ones they haven't heard from and they worry about themselves and their families. As one of our high school teacher's said "I was never prepared for this"
And given that COVID-19 is far from over we were particularly interested in how teachers are problem solving. Here are a few of their strategies:
First, Connections – we can't overstate the importance of teacher to teacher connections, online communities and working with parents
Next, Digital literacy – from learning to zoom to learning to tiktok – teachers have had to teach themselves technology at a rapid pace
And finally in the words of a prek teacher – "Breaking the rules" – teachers told us over and over they had to be creative, flexible and patient with their students, their parents and themselves.