David Rivers, Loyola University Maryland – Insects and Crime Scenes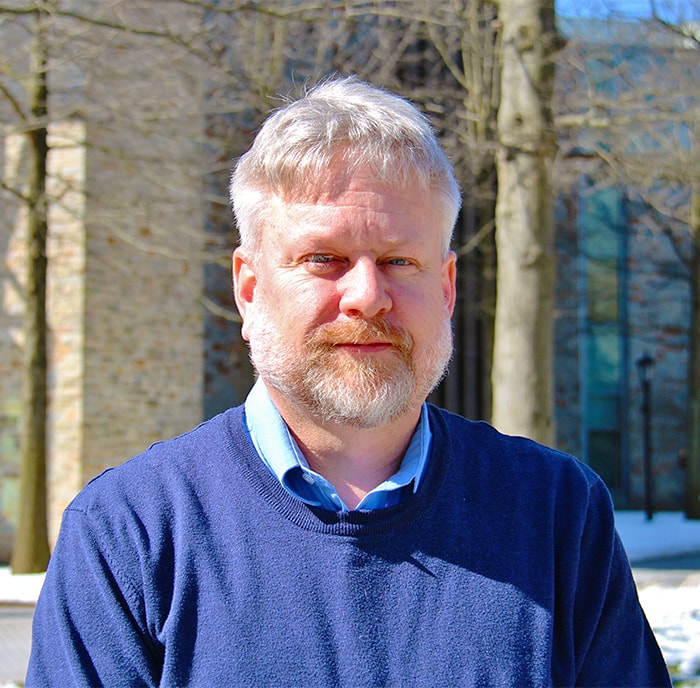 On Loyola University Maryland Week: Are insects hindering crime scene investigations?
David Rivers, professor of biology, explores how these critters can send investigators on the wrong track.
David Rivers, Ph.D., focuses his research on forensic entomology, the interactions between flies and parasitic wasps important to criminal investigations. In 2016, he led a team of faculty members that was awarded a $154,521 grant from the U.S. Department of Justice to help ensure more accurate analysis of critical evidence in crime scene investigations by developing a technique for law enforcement to distinguish fly artifacts from human bloodstains. Dr. Rivers also co-authored a textbook, The Science of Forensic Entomology, that was published in 2014. His latest, endeavor, though, is training the next generation of biologists. In 2016, he was awarded a $50,000 grant from the National Science Foundation to create and lead the Mid-Atlantic Biology Research and Career network, a group of biotech educators and professionals across the region committed to preparing students for careers in biotechnology. "I'm confident that the network will show students that there's more to careers in science than they know," he says.
Insects and Crime Scenes

Any fan of CSI, NCIS, or similar crime show knows that when violent crimes are committed, the crime scene is usually covered with blood.  Blood may be shed when the person is standing, sitting, or on the ground.  The weapon that caused blood to be released influences the shape of the bloodstains that form, as do many other factors.  Much more obscure are the 'bloodstains' dispersed about a crime scene that actually are not bloodstains at all; they are insect stains or artifacts.  Stains produced by insects, usually flies, are created by a multitude of mechanisms; at least ten that we know of.  When intermixed with real bloodstains, fly stains can be incredibly challenging if not impossible to recognize. 
Why does that matter?  For one, patterns of blood can reveal directionality, especially important during reconstruction of the blood shed event.  The size and shape of bloodstains reveal details about how the stains were created.  Blood also contains DNA of either the victim or assailant.  Fly stains can provide false information about any of these parameters if confused as true bloodstains. It's even possible that insect artifacts may introduce DNA to a crime scene from someone not associated with the crime!  Thus, it is absolutely essential to be able to distinguish insect stains from true bloodstains. 
My research is focused on pattern evidence created by insects at crime scenes.  I am specifically attempting to shed light on how and when fly stains are formed on different materials, and within the context of the types of tissues and fluids associated with a corpse.  The goal is to develop tools that permit crime scene investigators the ability to reliably identify insect stains under different contexts.  Ultimately, the information will help to recognize the presence of insect artifacts and avoid confusion with true bloodstains.