William Thomas Okie, Kennesaw State University – Georgia Peaches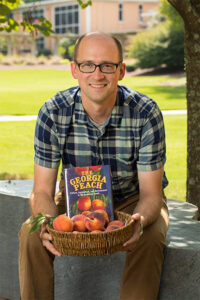 On Kennesaw State University Week: How can something rare become a lasting symbol for a state?
William Thomas Okie, associate professor of history, determines one symbol that has stood this test despite not being plentiful.
William Thomas Okie, Ph.D., Associate Professor of History Education and History, researches the history of agriculture and the environment, especially in the U.S. South. Dr. Okie has won multiple prizes for his research, including the Georgia Historical Society's best book award for his book, The Georgia Peach: Culture, Agriculture, and Environment in the American South. His work on the study of the Georgia peach has been featured by numerous media outlets, such as the New York Times, NPR, Smithsonian Magazine, and even a popular YouTube cooking show. Dr. Okie also co-edits the KSU-hosted international journal Agricultural History.
Georgia Peaches

Georgia peaches are something of a national celebrity. The fruit is on the state license plate, the tail side of the state quarter, and the state map.  It's plastered on billboards and water towers, it's the nickname of the one of the state's most famous baseball star Ty Cobb, it's in songs by Lauren Alaina, Lynyrd Skynyrd, The Allman Brothers and Jimmy Rogers, to name a few.
In short, the peach is easily Georgia's most visible symbol. And yet the fruit itself is surprisingly rare.
So what gives?
Peaches are a big deal in the South because of nature, culture, and historical timing.
First, nature. Peaches could never have become a profitable crop if they were not both prolific and delicious. Native to China, the vigorous trees grow well in the hot, humid, irregular climate of the South, and the fruit's tart sweet juiciness, soft porous skin, and early ripening gave southern growers an advantage in the early days of the industry.
Second, culture. It's not wild peaches that made the commercial industry, and so peaches also owe their fame to the work of harvesters, packers, horticulturists and other scientists who bred the varieties and conducted the experiments that made commercial cultivation possible.
Third, historical timing. Peaches emerged as a viable agricultural commodity in the late nineteenth century, after the Civil War, after Reconstruction. This was a moment when southerners were crowing about "the New South" and hoping to attract northern investment. Peaches seemed new. But as a perishable crop, the fruit needed a large number of workers for a very short season.  The South's cotton economy provided that labor source, principally in the source of impoverished tenant farmers, a disproportionate number of who were African-Americans.
The Georgia peach would not exist today without each of these elements, which is worth remembering the next time you take a big juicy fuzzy bite of the fruit.