Trysh Travis, University of Florida – Magical Thinking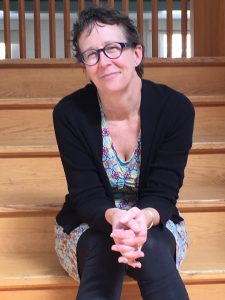 How are we dealing with the pandemic?
Trysh Travis, associate professor at the center for gender, sexualities, and women's studies research at the University of Florida, discusses why positive thinking is popping up again during this time.
I'm a cultural and literary historian who focuses on gender and popular cultures in the 20th-century United States. I was trained in the historical study of popular media forms, and in graduate school developed a side interest in the culture of addiction and recovery. I combined these two interests in my first book, The Language of the Heart: 12-Step Recovery from AA to Oprah Winfrey (University of North Carolina Press, 2009). That book examines both the "bibliotherapeutic" dimensions of Alcoholics Anonymous, whose foundational texts were written and read almost exclusively by white me), and the recovery literature written by women and minority authors connected to AA's many offshoots. My anthology Re-Thinking Therapeutic Culture (University of Chicago Press, 2015, co-edited with my friend Tim Aubry) extends my work on popular self-help and other "mental hygiene" movements; I blog on these topics (among others) at Points: the Blog of the Alcohol and Drugs History Society.  My current project is a long-overdue history of feminist responses to drug-using women.
Magical Thinking

The 21st-century response to the coronavirus has revealed the staying power of some 19th-century ideas about the human mind.
The idea that our brains could influence reality emerged in the Victorian era. Proponents of "mind cure" rejected the notion that suffering was inevitable—part of God's plan. Inspired by new discoveries in biology and physics, they believed in using mental energy to shape the body and personal destiny. Health, wealth, and happiness could result from visualizing and affirming that "every day and every way, I am getting better and better."
The result was a modern, forward-looking personality—confident and well-suited to the volatile capitalism of the Gilded Age. After World War 2, Norman Vincent Peale repackaged mind-cure spiritualism into the more secular Power of Positive Thinking.  Before it became a go-to for pandemic survival, you might have known "positivity" as a key to academic achievement, leadership, and success in today's entrepreneurship economy.                                                      
But what's never been clear is where positivity ends and delusion begins. The first anthropologists were contemporaries of the mind-cure mystics. These Victorians intellectuals scoffed at the "magical thinking" of primitive tribes who believed prayers and rituals could influence the course of events. Modern people didn't need magic—they had science! But… even scientists might see value in thinking positive.
As long as we lack medical and economic solutions to the coronavirus, our public discourse will continue to foreground both "positive" and "magical" thinking. Understanding their common Victorian root may help us lower our expectations for the former, and raise our tolerance for the latter.