Barbara Shaw, Allegheny College – Transforming Knowledge, Building Re-imagined Futures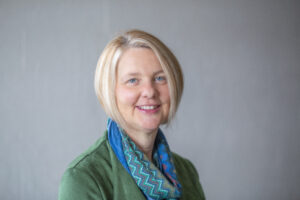 The time is now to understand historical and contemporary relations of power.
Barbara Shaw, associate professor of women's, gender and sexuality studies at Allegheny College, delves into building a reimagined future.
Named the Brett '64 and Gwen '65 Elliott Professor for Interdisciplinary Studies and the Director of Interdisciplinarity, Dr. Barbara Shaw is an associate professor in the Women's, Gender, and Sexuality Studies Program, the interim chair of Black Studies, and is affiliated with Global Health Studies at Allegheny College in Meadville, Pennsylvania. She enjoys working with curious, kind, open-minded, and engaged students. Her Women's, Gender, and Sexuality Studies courses draw on multiple scholarly methods, political approaches, and theoretical lenses to think through complicated cultural issues.
Dr. Shaw has published two textbooks with co-editors, Introduction to Women's, Gender & Sexuality Studies: interdisciplinary and intersectional approaches (Oxford University Press, 2017) and Feminist & Queer Theory: an intersectional and transnational reader (Oxford University Press, 2020). She collaborates with colleagues to facilitate curricular transformation at Allegheny, regionally through the Great Lakes College Association, and nationally. Her current research exists on the thresholds of women's, gender & sexuality studies and public health and she is at work on a single-authored monograph tentatively titled Decolonizing Sexual Violence: Transforming Justice in Caribbean Women's Everyday Lives and engaged in an interdisciplinary project with a global health studies colleague. Dr. Shaw earned a doctorate in American Studies with a graduate certificate in Women's Studies from the University of Maryland, College Park.
Transforming Knowledge, Building Re-imagined Futures

While varied, gender and sexuality is ubiquitous and a central organizing formation that cuts across cultural and national borders. In a time of deep divisions and precarity, women's, gender & sexuality studies is vital for helping undergraduates make sense of a rapidly changing world—one that is too often defined in terms of "us" and "them" while simultaneously stretching toward transformed justice. Since exploring gender and sexuality touches nearly every aspect of a young person's life, including their academic work, the tools cultivated through learning feminist-queer methods and theories opens up new thought pathways, reimagines ways of being, and informs their lifelong endeavors. As this field that grew out of social movements approaches its 50th anniversary, unlearning systems of sexism, racism, classism, ableism, and xenophobia are essential for addressing some of the most intractable issues that humans face—from climate change to health disparities, reproductive justice to (im)migration, and from gendered violence to LGBTQ+ rights.
Disease outbreak has crystalized systematic failures and the need for interdisciplinary and intersectional tools to approach complex problems, especially those that remain largely invisible such as domestic violence and the prison industrial complex. As feminist-queer scholars suggest, it is time to understand historical and contemporary relations of power and move toward rebuilding sociopolitical and economic infrastructures. Led by an ethics of care and transformation, we collectively can strive toward a future that sustains equitable access to health & food, education & work, and political processes & justice.