Carola Daffner, University of Dayton – Female Authors During the Holocaust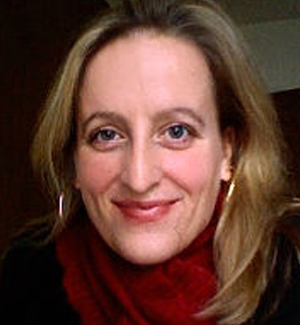 German Jewish women writers still have much to tell us about the Holocaust.
Carola Daffner, associate professor of global languages and cultures at the University of Dayton, delves into this history.
Before coming to the University of Dayton, Carola was an Associate Professor of German and Acting Associate Dean of Student and Curricular Affairs for the College of Liberal Arts at Southern Illinois University Carbondale. From summer 2017 to December 2018, she also served as Director of the interdisciplinary programs International Studies and Foreign Language and International Trade. She enjoys teaching a wide range of courses, from German language and culture courses to courses taught in English, such as a "Film in the Third Reich" class, a "Gender and Sexuality in Modern German Literature" class, and a "Germanic and Norse Mythology" course. For her efforts inside and outside the classroom, Carola received the 2014-2015 College of Liberal Arts Outstanding Teaching Award (Tenured & Tenure-Track Faculty) at SIU Carbondale.
In Carola's research, she focuses on gender and the politics of space in German literature and film. Her work has been published in several journals, including the German Studies Review, the Journal of Austrian Studies, and the Women in German Yearbook. Her monograph Gertrud Kolmar: Dichten im Raum (Königshausen & Neumann) appeared in 2012. She also co-edited an anthology entitled German Women Writers and the Spatial Turn: New Perspectives with Beth Muellner, which was published in 2015 as part of De Gruyter's Interdisciplinary German Cultural Series. Carola's current research focuses on imagined geographies in the works of women who traveled to the German colonies in Africa around 1900.
Female Authors During the Holocaust

Anne Frank's story is well known. Generations have read her diary, or seen her life depicted on screen or stage.
Accounts like hers help us grasp the trauma of the Holocaust on a deeper level. Many women's voices, however, are lesser known. Examining their stories allows us to better understand victims' diverse experiences.
Poet and writer, Gertrud Kolmar, for example, writes of isolation and loss of privacy.
After Kristallnacht, or the Night of Broken Glass, Kolmar and her father were evicted from their home; moved to a Judenhaus (or Jews' house); and she was forced to work in an arms factory. She died in 1943 in Auschwitz.
Along with her published work, some of her writing survives today because Kolmar mailed it out of the country or buried it in her backyard.
Another German Jewish writer was Clementine Krämer. She also protected her writing by mailing it to her nephew in New York.
Krämer's stories cover themes still relevant today — gender equality and discrimination in addition to war and migration. She was also well known as an activist and community leader. She died in the Theresienstadt concentration camp in 1942.
Twice marginalized — as German Jews and as women — Kolmar and Krämer repeatedly risked their lives by writing about political changes and social tension they experienced, and by experimenting with different social realities in their stories.
There are many studies of the Third Reich, but most focus on male experiences. Women's voices need to be rediscovered if we want to gain a fuller and more nuanced understanding of life under National Socialism.