Kristin Wobbe, Worcester Polytechnic Institute – Project-Based Learning in the First Year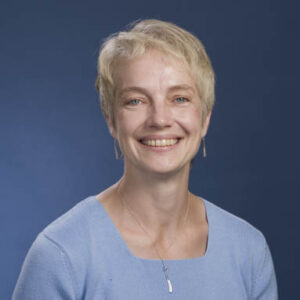 On Worcester Polytechnic Institute Week: Students shouldn't wait for project learning in higher education.
Kristin Wobbe, associate professor of chemistry and biochemistry, explains that this type of learning provides benefits from the beginning.
Project-based learning is an enormously powerful approach to education. I've been changed by it; I've watched students be changed by it. I've seen faculty develop a renewed sense of joy in teaching from using it. And now, after over a decade of using PBL with students, I'm embarking on a new phase of helping faculty implement PBL through the work of the Center for Project-Based Learning. The good news – working with faculty on PBL is as much fun as working with students!
Project-Based Learning in the First Year

Projects have long been a mainstay of higher education – largely as capstone experiences that demonstrate the students' ability to integrate and apply knowledge and skills gained in prior work.  And through that lens, projects in the first year seem to make little sense. 
But project-based learning can provide a whole array of benefits at the beginning of a college career.  Recent research chronicles over a decade of firsthand experience with project-based learning during the first year of the college experience.  This includes sample coursework, projects, and guidelines on implementation but more importantly confirms the benefits and effectiveness of this type of learning from the very beginning of a college career. 
Project work offers relevance and context that engages students in academic work and provides motivation.  Students working on projects grapple with the interrelatedness of what can often appear to be distinct disciplines, say ethics and urban planning.  They hone professional skills, such as leadership, teamwork, and problem-solving that will prove invaluable in their careers.  And best of all, the completion of a complex, open-ended project with a real world context gives students a deserved sense of pride, and a level of confidence in their abilities.  They have risen to a challenge and found themselves capable.  This is a powerful gift for our first year students.
Further, the first year provides a unique opportunity to use non-traditional approaches to learning.  First year students are expecting – maybe even hoping – that college will be different than high school.  Project-based learning classes certainly fulfill that expectation!
By implementing project work in the first year, colleges and universities effectively rewrite the educational narrative: students are provided with invaluable experiences that not only lead to increased confidence and heightened job prospects, but reinforce the importance of higher education in students' futures.