Marie Ostby, Connecticut College – The Global Genes of Modern Iran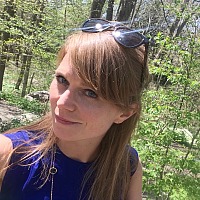 On Connecticut College Week:  Public perception of Iran is not strong in the West.
Marie Ostby, assistant professor of English, determines the real story is not always so straightforward.
Marie Ostby's research focuses on the global circulation of modern and contemporary Middle Eastern literatures, with a specialization in Iran and its diaspora. Other research interests include postcolonial and global studies, genre studies, migration and diaspora, gender studies, life narrative, poetry and poetics, cinema studies, graphic narrative, and digital and social media.
She joined Connecticut College in 2015 and has taught the following courses:
Her current book project, "Genres Without Borders: Reading Globally between Modern Iran and the West," uses the interwoven modern histories of Persian and Euro-American literature, art, and film to explore how transnational literary exchange under politically fraught circumstances is often mirrored and embodied in the crossing of genre boundaries.
She has recently presented at conferences including the Modern Language Association convention, the American Comparative Literature Association's annual meeting, the Southern Atlantic Modern Language Association conference, and the International Society for Iranian Studies conference.
The Global Genes of Modern Iran

2019 marks the 40th anniversary of the Iranian Revolution, and its legacy has been interpreted in many ways. Ayatollah Khamenei calls it a "magnificent and global phenomenon;" members of the Trump administration tweet under the hashtag #40YearsofFailure. Since 1979, Iran's geopolitical isolation from the West has grown more entrenched, with the cancelled nuclear deal, renewed sanctions, and the travel ban, which tore family members apart and intensified an Islamophobic climate in the US with hate crimes on the rise.
Meanwhile, images of Iran in US media are dominated by what scholar Farzaneh Milani calls "new hostage narratives:" memoirs that portray Iranian women as oppressed, silenced and trapped inside a country-wide prison until they escape to inevitably find freedom of movement and expression in the Global North. The truth, of course, is not always so straightforward.
My research focuses not on this stereotypical story, but on how, despite the attempted isolation of Iran, the regime's human rights violations, and its economic crises, art and literature are thriving–both within Iran and in its multi-generation, interethnic, and interfaith diaspora. Iranian poets like Fatemeh Ekhtesari publish multimedia works on Twitter and Instagram; graphic novels and webcomics by Iranian cartoonists proliferate from Paris to LA; Iranian filmmakers from Asghar Farhadi to Ana Lily Amirpour make indelible marks on world cinema. These artists represent neither nationalism nor Westernization.
My current research traces developments that occurred simultaneously in modern Iranian and Euro-American poetry, film, graphic narrative, and other genres. By exploring how these literary histories are interwoven, I hope to show that Iran's culture is not an isolated one – that Iranian literature shaped and was shaped by literature across the globe before, during, and after the Iranian Revolution.