Rajesh Kana, University of Alabama at Birmingham – Autism Biomarkers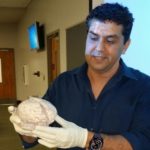 Diagnosing autism earlier could make life easier for children and their parents.
Rajesh Kana, associate professor of psychology at the University of Alabama Birmingham, explores the search for a faster diagnosis.
Dr. Rajesh Kana is an associate professor of Psychology at the University of Alabama at Birmingham. Dr. Kana is also the director of the Cognition, Brain and Autism Research Lab, and Co-director of the Undergraduate Neuroscience Program. Dr. Kana has more than 15 years of experience in conducting research in the field of autism spectrum disorders, with training in neuroimaging from UCLA and Carnegie Mellon University. Dr. Kana's research studies use multimodal neuroimaging techniques to understand the brain in children and adults with autism. He has published extensively on the neurobiology of autism and has mentored many graduate and undergraduate students in research.
Autism Biomarkers

Autism diagnosis is still a fairly slow process that involves observing a child's behavior and interviewing the parents. The delay in getting a diagnosis is a major concern.
It would be better if we could find reliable and stable biological markers for autism. This would help doctors and other professionals diagnose autism earlier in life, so that social and educational interventions with the children can begin at younger ages.
My laboratory uses MRI imaging techniques to search for brain-based markers of autism — changes in brain function, anatomy and brain chemistry, as well as changes in the strength of connections between different areas of the brain. We study large amounts of neuroimaging data to find features and patterns that are characteristic of the autistic brain. These features can then be tested for their ability to distinguish autism and healthy control participants with accuracy, sensitivity and reliability.
We recently found differences in the communication OR connectivity between the cerebral cortex and two deep regions of the brain in children with autism. The unimodal area (involved in sensation) was overconnected with the cortex, and the supramodal area (involved in thinking), was underconnected in autism.
This finding reports an important feature, although it is not yet used for classification and may not be powerful enough for diagnosis. But it is a step forward in our effort to find the signature of autism and understand why people with the disorder show certain social and behavioral symptoms. How the structure and function of the brain are affected can help us understand why people with autism are different.