Bruce Campbell, Arcadia University – Music, Social Justice and Leadership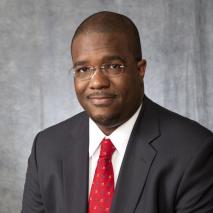 On Arcadia University Week: Want to become a better leader? Put social justice in your headphones.
Bruce Campbell, Jr., associate professor in the school of education, examines how a soundtrack can help you progress toward leadership.
Bruce Campbell Jr., Ph.D. is an Associate Professor in the School of Education at Arcadia University in suburban Philadelphia. He is also the Director of the Educational Leadership Masters and Supervisory Certification programs.  Dr. Campbell holds a doctorate in Educational Leadership and Learning Technologies from Drexel University and a master degree in Urban Education from Temple University.  Prior to coming to Arcadia University, his career focused on school improvement and program evaluation.  As a "Distinguished Educator" for the Pennsylvania Department of Education, Dr. Campbell consulted with school districts in the Commonwealth of Pennsylvania.  Dr. Campbell has also worked at education research firms and non-profit organizations including Research For Better Schools, and the Philadelphia Education Fund.
Dr. Campbell's work with these education organizations along with his employment at the United States Department of Education Office of Civil Rights, positioned him on the frontline of working with stakeholders in the education community.  Dr. Campbell has been able to take his knowledge, experience and skill to higher education as he trains the next generation of educational leaders. Throughout his career, Dr. Campbell has focused on embedding relevant issues of diversity into his practice, scholarship, and service.  He highlights experiences of underrepresented groups so that professionals and institutions can serve these communities more effectively.  Dr. Campbell teaches courses in educational leadership, organizational change, program evaluation, urban education, qualitative research methods, cultural competency and international musicology.
Music, Social Justice and Leadership

Music has a long legacy of responding to social inequalities. Creating music can act as a weapon for social justice, a tactic enabling artists to use their talents and platform to combat injustice.
But what about the listener? Especially, leaders that carry the torch of social justice?
My research examines the connection between leadership and social justice through the lens of music. I argue that using different forms of capital under the theoretical framework of Community Cultural Wealth can empower leaders. This framework was originally designed as a critical race theory to capture the talents, strengths and experiences that students of color brought with them to their college environment. The Community Cultural Wealth framework represents ways to understand how students of color access and experience college from a strengths-based perspective. I have applied this framework to the field of leadership.
I have found that there is a strong connection between the forms of capital within the framework and the inspiration leaders obtain from social justice driven music. The six different forms of capital in this framework are; Aspirational, Familial, Resistant, Linguistic, Navigational, and Social.
When I interviewed leaders about what music inspires them to do their line of work, the answers varied. They cover an array of musical genres and crossed many decades. My research has shown a correlation between the message in the music that leaders selected and the characteristics of leadership styles could be associated to at least one, if not all of the six forms of cultural capital.
So what music is the soundtrack of your work as a leader?