Graham Hodges, Colgate University – Black New Jersey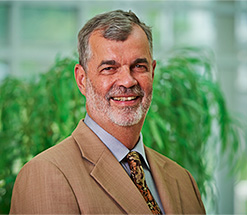 The history of enslaved people isn't limited to the South.
Graham Hodges, professor of history at Colgate University, looks at two alternative points of view on black history in New Jersey.
I am currently working on three projects. The first is a one-volume history of New York City from its founding to the present. The second book project is a revision in time and space of the major American movement the Underground Railroad, which I recast as Freedom Making. The third project is a memoir of my parents' families and my own life. I do this because in my mid sixties, I recognize that I need to tell these stories to my young sons who will never know their ancestors. I continue to seek new scholarly ventures, grateful for my post as professor of history, a job bounded only by one's imagination.
Black New Jersey

The history of slavery in America is often framed in the context of what happened in the south, but my work in exploring its legacy in New Jersey paints an often-overlooked picture of oppression in the north.
Slavery existed in New Jersey from the origins of the colony, through gradual emancipation starting in 1804, and was not extinguished in the state until national passage of the Thirteenth Amendment in 1865.
Small farm and town slavery characterized human bondage in New Jersey. Black men did farm work of all types; black women toiled as domestics in towns. During the American Revolution and after, hundreds of black Jerseyans fled to the British lines or to port cities seeking freedom. Their actions, more than the Gradual Emancipation of 1804, hastened the end of slavery in the state.
New Jersey slave masters were notorious for illegal sales of free black people to the slave south; in Bergen County, across the Hudson River from New York City, masters held tight to enslaved people for decades. After the Civil War, Jim Crow segregation curtailed black freedoms into the 1960s.
The alternative history of Black New Jersey resides in the courage and resilience of its people.
Let me give a few examples. Colonel Tye commanded bands of blacks and whites against
Patriots during the American Revolution; Harriet Tubman started her Underground Railroad career in Cape May, New Jersey. Paul Robeson, actor, singer, athlete, activist was the greatest person born and raised in New Jersey. Marion Thompson Wright became, in 1940. the first black woman to earn a doctorate in the field of history. Amiri Baraka, playwright and poet, epitomized the black activist/artist of recent history. Corey Booker, now New Jersey's U.S. Senator, may run for president in 2020. Theirs are but a few of the great human accounts in Black New Jersey.