William Blick, Queensborough Community College – Open Educational Resources at Community Colleges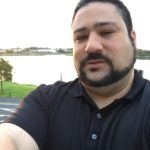 Reducing the cost of textbooks is key for lower-income students.
William Blick, assistant professor at Queensborough Community College, examines one way to accomplish this goal.
William "Bill" Blick is Assistant Professor at Queensborough Community College of the City University of New York. He is the electronics resources and serials librarian at QCC. His research interests include OERs, Predatory Publishing, Reference, Popular Culture, Film, Literature, and Music. He has published work on OERs and Popular Culture in the Library, and he also has presented at conferences as diverse as crime fiction at the University of Gdansk, and James Joyce at The University of Galway. He is also the liaison for Academic Works-CUNY, the CUNY-Wide Institutional Repository.
Open Educational Resources at Community Colleges

Research has shown that students at community colleges face many challenges in getting an education. One of the foremost difficulties is financial. Recent trends have shown that textbook publishers have made record profits at the expense of students. The new trend in Higher Education is to implement