Alison Bryant Ludden, College of the Holy Cross – Teens and Caffeine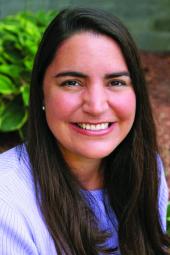 Is caffeine bad for teens?
Alison Bryant Ludden, associate professor of psychology at the College of the Holy Cross, says the reasons behind caffeine use may be a bigger issue.
Dr. Alison Bryant Ludden, associate professor of psychology at the College of the Holy Cross, studies how adolescents' use of different caffeinated products unfolds over time and in different contexts. She received her Ph.D. in Education and Psychology from the University of Michigan, previously taught at the University of Missouri—Columbia, and has been at Holy Cross since 2004. She serves on the editorial board of Journal of Youth and Adolescence and Youth and Society and teaches courses on adolescent development and health.  Dr. Ludden's survey and focus group research examines how school, family, peers, and communities help to promote adolescents' health and educational resilience. Her most recent papers have focused on adolescents' patterns of caffeine use and the links between civic engagement and substance use in rural communities.
Teens and Caffeine

Everyone drinks coffee — what's the big deal? Well when "everyone" includes adolescents, there's reason for concern.
With the introduction of energy drinks and the rise of coffee shops in the past 15 years, the consumption of caffeine has become more and more popular among young people. The physiological effects of these beverages are worrisome – energy drinks and coffee beverages contain five, sometimes up to 10, times the amount of caffeine found in a can of Coke.
But as important is why more and more adolescents are drinking caffeine, and how their reasons for using caffeine suggest a potentially problematic pattern of using caffeine to meet the social and psychological demands of their environment.
In my focus groups and survey research involving high school students, teens talk about using caffeine in the same way they talk about other substances, like alcohol.  They self medicate using caffeine to get through their day and they use it to help socialize with peers.  Teens revealed that they use energy drinks to help study for tests and that carrying an iced coffee yields social status in high school hallways.
This expands the notion that adolescents are drinking caffeine just for the stimulant effects. It has a bit of edginess, of exclusivity and of risk-taking if their parents were to find out.
Companies reinforce this idea through advertising that targets kids: Energy drinks like Monster sponsor sporting events, while coffee companies use flavors such as Oreo to make their highly caffeinated products appealing to a younger clientele.
So why is this an issue? Because the behaviors you form in adolescence stick with you. If kids are establishing habits of self-medication and socializing using substances, it is likely that the reasons they provide for using caffeine are going to be the same reasons they provide for using the next substance they experiment with such as alcohol or other drugs.