Minita Sanghvi, Skidmore College – Gender and Biases in Politics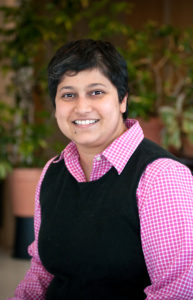 Women in politics face a wide swath of biases.
Minita Sanghvi, Assistant Professor in Management and Business Department at Skidmore College, looks into this statement with many women entering the political fray this year.
Minita Sanghvi, PhD, is an assistant professor in the Management and Business Department at Skidmore College, where she teaches business, marketing, and a Scribner Seminar on gender and politics to first-year students. She specializes in the study of gender and intersectionality in political marketing. Her book, Gender and Political Marketing in the United States and the 2016 Presidential Election: An Analysis of Why She Lost, was published in 2018 by Palgrave MacMillian. Sanghvi's work has appeared in the Journal of Marketing Management and Advances in Consumer Research. She has also written several commentary pieces for the Albany Times Union.
You can follow her at https://marketingpolitics.com/
Gender and Biases in Politics

The democratic legitimacy of the United States can be questioned when it ranks 103rd in the world for female representation in Congress. To achieve gender parity in politics, the underlying causes for such inequalities should be examined.
There are lots of studies about how female politicians face sexism and media bias. But sexism is a broad term and this research explains subtle ways in which women in politics face different kinds of biases often in conjunction with each other – not just sexism but racism, ageism, fattism, that is discrimination based on their weight, homophobia and transphobia, which is discrimination based on their gender identity, sexual orientation and gender expression.
Women of color have to work harder on fund-raising and often will get smaller amounts from the same donors than their white male or female colleagues.
Another example is when women politicians who are overweight are targeted individually and structurally through various means such as campaigns, media outlets or even their colleagues. When Michigan Senator Debbie Stabenow's opponents referred to her as Lil' Debbie – it was a coded way to minimize her worth, emphasize her size, and remind voters not only that she was a woman but that she was a fat woman who was comparable to a mascot for a snack cake.
Research shows even complimentary stories about female politicians losing weight impact them negatively. In a Vogue story Kirsten Gillibrand was pressed to reveal how many pounds she had lost along with the following sentence, "And no doubt remain attractive to her husband of nine years, who is two years younger than she is"
These subtle forms of sexism are gender power plays that are advanced to diminish the substantive value of the politician and are used to objectify and demean her in the eyes of the public.