Jeff Sovern, St. John's University – Consumer Confusion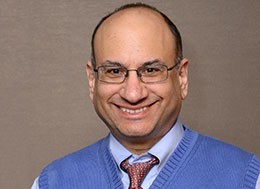 Do you always understand exactly what you're signing?
Jeff Sovern, professor of law at St. John's University, discusses the contracts we all tend to sign without really reading.
Jeff Sovern is a Professor of Law at St. John's University in New York City where he teaches Civil Procedure, Consumer Protection and Introduction to Law.  The New York Times has called him "an expert in consumer law," a statement echoed by the Chicago Tribune, and Mother Jones.
Professor Sovern writes for three overlapping audiences. For the public, he has published numerous op-eds, including essays in The New York Times (here and here), the Christian Science Monitor, the American Banker (here, here and here), the Pittsburgh Post-Gazette (here, here, here, here, here and here), The New York Daily News, The Hill (here, here, here, here and here), CNN.com, Politico, Commonwealth, and a variety of blogs.  Professor Sovern can be heard on public radio's Academic Minute and discussing privacy issues during an hour-long interview on the University of California—Irvine's radio show "Privacy Policy" initially broadcast on July 26, 2006.  He has also published 40 letters in The New York Times. He has been quoted in The New York Times, the Wall Street Journal, U.S. News and World Reports, Newsday, the Philadelphia Inquirer, the New York Daily News, Mother Jones, The Oregonian, National Law Journal, Law360.com, The Huffington Post, the ABA Journal EReports, by the Associated Press, Washington Post, and on CBS News.
Consumer Confusion

Sometimes companies selling to consumers misbehave. Their product may be defective, as with the General Motors ignition switches, or the company may not keep its promises. In such cases, consumers can sue in court. Because litigation is expensive, small consumer lawsuits may not make sense unless brought as class actions.
But businesses have found a way to avoid these class actions, so consumers can't sue them. The businesses put in their contracts that consumers agree to arbitrate any disputes, and won't bring class actions. The courts say such clauses are enforceable as long as consumers agree to them, even if that means consumers would spend more to argue a case than they would get if they won.
My colleagues Elayne Greenberg, Paul Kirgis, Yuxiang Liu and I wondered if consumers understood what they agreed to in these contracts. So we surveyed consumers to find out. We showed them a credit card contract with an arbitration clause and then we asked them questions about it.
We found that few consumers understand arbitration clauses. Even more troubling, many respondents believed they understood them—but didn't. For example, more than three times as many respondents thought the arbitration clause permitted suits in court as correctly said it didn't.   Similarly, only 12% recognized that the clause barred class actions, while four times as many believed that the contract allowed them. Overall, less than one percent of the respondents got all our questions right while 18% didn't get any right.
Our study raises serious questions about whether consumers knowingly agree to give up their rights, including constitutional rights, in arbitration clauses.
Read More: SSRN: 'Whimsy Little Contracts' with Unexpected Consequences: An Empirical Analysis of Consumer Understanding of Arbitration Agreements