David Gowler, Emory University – The Continuing Relevance of Howard Thurman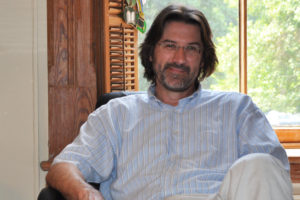 Who was Howard Thurman?
David Gowler, professor and chair of religion at Oxford College of Emory University, discusses Thurman's influence beyond being an influence to Martin Luther King Jr.
David B. Gowler is The Dr. Lovick Pierce and Bishop George F. Pierce Chair of Religion at Oxford College of Emory University; senior faculty fellow at the Center for Ethics, Emory University; and the author of "The Parables After Jesus: Their Imaginative Receptions Across Two Millennia."
The Continuing Relevance of Howard Thurman

Although he is best known as a mentor to Martin Luther King, Jr., Howard Thurman played a vital role in laying the spiritual foundation for the civil rights movement in the United States, including his early embrace of Gandhi's philosophy of nonviolence. Thurman published numerous books and articles, but he also was one of the most influential preachers of his day. Hundreds of recordings of Thurman's lectures and sermons remain unpublished, such as the ones found in Pitts Theology Library, and this treasure trove yields tremendous insights into Thurman's thought and influence.
In these recordings, Thurman engages with fundamental, universal realities of human experience, but they also translate those ultimate realities into practical messages for his listeners to apply in their daily lives. As Thurman wrote, "It was my conviction and determination that the church would be a resource for activists . . . thick of the struggle for social change . . . ."
Key to Thurman's understanding of the religion of Jesus is his insistence that one's personal, inner transformation (such as found in the parable of the prodigal son) should lead to social action (such as found in the parable of the good Samaritan).
Thurman contends that an encounter with the teachings of Jesus, especially the parables, involves much more than just intellectual assent; understanding must lead to concrete action in the world, because truly understanding the radical message of Jesus creates a profound moral obligation. Jesus's teachings not only challenge people to act; they demand that they act. This insight is just one example of how Thurman provided inspiration to an entire generation of civil and human rights activists, and still continue to provide such inspiration today.