Lisa Wisniewski, Goodwin College – Immigration and Higher Education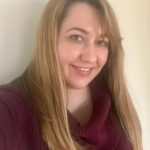 Foreign born students have additional challenges at academic institutions.
Lisa Wisniewski, assistant professor of sociology at Goodwin College, discusses the Polish immigrant communities in the Northeast.
Lisa Wisniewski is an assistant professor of sociology at Goodwin College. She earned her doctorate from the University of Hartford.  At Goodwin College she is a Teaching Fellow in Universal Design for Learning.  Her research is focused on first-generation college students and immigrant students. She has presented her research regionally, nationally, and internationally.
Immigration and Higher Education

Polish immigration to the United States has contributed to the history and population of the country.   Significant Polish diaspora communities are still present in the New England area, specifically in Connecticut and Massachusetts.  While the Polish population in the United States makes a significant portion of the population, there is little research focused on the educational pursuits of this population. 
Immigrant students have additional considerations in their college journey that native-born students may not have to consider.  This includes learning the English language (at the college level) and learning the structure of college in the United States (such as financial aid and types of degrees).  There are six key influencing factors in their college journey.  The first is the influence of parents, family members, and peers.  The second is their country of origin (Poland), specifically the cultural values of Poland.  The third includes government bureaucracy, including the difficult process of obtaining a visa to enter the United States.  The fourth is economics and employment prospects because of the need to work while enrolled in college.  The fifth is cultural institutions such as the Roman Catholic Church and Polish language schools.  The final influencing factor is learning the language.  In addition, first and second generation immigrant students are often the first in their families to attend college.  This added layer of complexity can make navigating college difficult for Polish immigrant families.  To assist this student population, interventions such as translating college material into Polish and including families in college level decisions.