Jason Corey, University of Michigan – Favorite Songs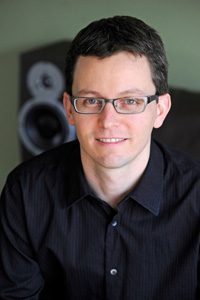 How many times have you listened to your favorite song?
Jason Corey, associate professor of music at the University of Michigan, examines why people can keep listening to same song over and over.
Jason Corey teaches courses in sound recording, timbral ear training, and musical acoustics, and is active as a recording engineer focusing primarily on symphonic band, jazz, orchestral, chamber, and experimental electronic music. His research is concerned with technical ear training and critical listening and the development of audio processing tools for multichannel audio with applications in music and film sound recording. In 2010, he published a book with accompanying software entitled Audio Production and Critical Listening: Technical Ear Training (Focal Press).
He is a recipient of the Paul D. Fleck Fellowship at The Banff Centre in Banff, Canada, where he has worked as an Audio Research Associate. He has presented his research at conferences in Europe, Canada, and the United States. His research and education have been supported by the Audio Engineering Society Educational Foundation (New York), Bang & Olufsen A/S (Denmark), McGill University Stern Fellowship for Doctoral Studies in Music, Natural Sciences and Engineering Research Council of Canada (NSERC), Pioneer Electronic Corporation (Japan), and TC Electronic A/S (Denmark).
Serving as chair of the Audio Engineering Society Education Committee from 2004-08, he was actively involved in the organization of student and education events at AES conventions. He is the founder of the University of Michigan AES Student Section, serving as its faculty advisor since 2003.
Professor Corey has been a member of the Audio Engineering Society since 1995 and is also a member of the Acoustical Society of America, the International Computer Music Association, College Music Society, and the Society for Music Perception and Cognition.
Favorite Songs

How is it that people can listen to their favorite song hundreds of times without getting bored? We explored this phenomenon, which we refer to as "extreme re-listening," by conducting a survey about the song to which participants were "listening most often these days." We questioned 204 participants about their listening experience. We asked them how often they listen to the song, the deepness of their connection to the song, which aspects of the song draw them back, how much of the song they are able to hear in their heads, and how (in their own words) the song makes them feel, which we classified as "happy," "calm," or "bittersweet."
Participants reported listening very often, 303.7 times on average, and 43% of participants listened to the song daily. For these listeners, the median number of listens per day was three. The way the song made them feel affected how often participants listened, listening most to songs that made them bittersweet, 790.2 times on average, followed by songs that made them calm, 515.0 times on average, followed by songs that made them happy, 174.9 times on average. And this, in turn, affected how much of the song they could hear in their heads:  30.8% of listeners whose favorite song made them bittersweet could hear the entire song in their head, while 12 and 13 percent of listeners whose favorite song made them feel calm and happy, respectively, could hear the entire song in the heads.
Listeners reported that their relationship with songs that made them feel bittersweet was deeper than songs that created other feelings. It seems that listeners develop the kind of personally meaningful relationships with particular songs that allows their affection for those songs to persist across very large amounts of exposure. This is particularly the case for songs that lead listeners to reflect or ruminate, that is, songs that create mixed emotions that are not entirely happy.