Benton Kidd, University of Missouri – The Colorful Lives of the Phoenicians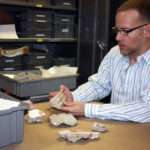 Excavation is telling us new stories about an old civilization.
Benton Kidd, researcher and associate curator of ancient art at the University of Missouri, explores the colorful lives of the Phoenicians.
Benton Kidd is with the University of Missouri, Columbia, and his areas of specialization are the cities of Hellenistic and Roman Asia Minor, the Levant, and North Africa, particularly the architecture and its decoration from these areas; also the growth of the Hellenistic cosmopolis, the intermingling of Greek and non-Greek cultures, and the resultant impact on the succeeding Roman empire.
The Colorful Lives of the Phoenicians

There is little left of the Phoenician domination of the Mediterranean region because conquering Greeks and Romans obliterated the Phoenicians' homes and businesses. Many of the Phoenicians were traders and, like their Greek neighbors, they could have very loud tastes. We reconstructed an interior wall of what is believed to have been a wealthy Phoenician's hilltop villa.           
The excavation was started 50 years ago by Saul and Gladys Weinberg at the site of Tel Anafa in northern Israel; where they found a luxurious Phoenician merchant's villa. The team recovered wine jars, bronze and silver coins, pottery from as far away as Italy, bronze tools and more than 1,000 fragments of brightly colored, gold-leafed wall plaster that decorated a room on the upper floor of the villa. Each fragment was carefully photographed and documented.
We digitally reassembled the fragments into one of the four walls of the room. Additionally, we had pigments analyzed by the mass spectrometer at the MU Research Reactor and found builders used mercury for a bright, vivid pink, making the Tel Anafa villa the earliest occurrence of a mercury-based pigment in the region. The analysis also revealed copper oxide was used for green. Neither copper nor mercury is native to Israel, so it would've been imported.
Certain areas of the wall were embellished with gold leaf, some of which still clings to the plaster fragments. It's a type of decoration called "Masonry Style," and by the time this villa is built, around 100 B.C.
We speculate that the room may have been a dining room or reception area, or maybe the master bedroom. We're lucky to have the capabilities of recreating this villa, which I'm sure the Weinbergs would have appreciated. The digital recreations and wall fragments have now been fully published in a new book detailing the work.