Raymond Boisvert, Siena College – 200th Publication Anniversary of Frankenstein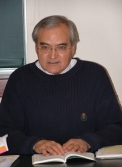 Everyone knows the Frankenstein legend, right?
Raymond Boisvert, professor of philosophy at Siena College, takes a deeper look.
Educated in Rhode Island, Switzerland, the University of Toronto and Emory University in Atlanta, Raymond Boisvert made his academic reputation with two books on the American philosopher John Dewey. Hired at Siena in 1984, he has taught a variety of courses including Classical American Philosophy, Asian Philosophy, the Philosophy of Religion and many sections of philosophy and the human being. For many years he was head of the college core, teaching in the first year course then known as the Foundations Sequence. Recently he has joined the teaching team for the new first year course, the First Year Seminar. The theme for that course, "Food, Values, Culture" reflects his new interest in the area of philosophy and food. Two of his books on that topic will be published in the next several years.
200th Publication Anniversary of Frankenstein

"Frankenstein," the very word stirs up images and issues. A square headed creature; bolts in the neck; humans wanting to be gods; unintended consequences. Such images and issues result from the films of the 1930s not from the original story written by 18 year old Mary Shelley.
The novel, published two centuries ago, March 11, 1818 is more talked about than read. 
The distortions started with stage adaptations, the first of which was called "Presumption," that is a human presuming to take on a God-like role as creator.  The 1931 movie, based on a later play, highlighted two things: the creature was given a defective brain and the scientist, Frankenstein, uttered his famous line "Now I know what it feels like to be God."
Shelley's story does not highlight presumption. It draws attention to the consequences of abandoning parental responsibilities.  Victor Frankenstein, circumventing female involvement entirely, brings all by himself, a new creature to life. The resultant being is immediately rejected by its "father."  Because it is ugly, the creature is also rejected, shunned, and attacked by everyone he meets.  The creature is depicted by Shelley as the classic "other," the ugly, different one, judged only by external appearance. 
The novel is, as widely assumed, a cautionary tale. But it's not about wanting to become like God. It's about taking fatherly responsibilities seriously. It's about judging others based on character and not on looks.  The story warns about what happens if someone is never lovingly hugged.  The creature had neither biological birth and nor motherly caresses.  There was also another major absence, no fatherly tenderness. Victor Frankenstein's vice is not that he wants to become like God. His flaw is turning away from the responsibilities of fatherly affection.