Donald Schaffner, Rutgers University – Hand Washing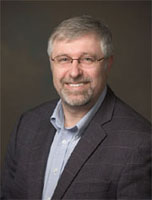 How much lather time is enough for washing your hands?
Donald Schaffner, professor in the department of food science at Rutgers University, determines the best way to get your hands clean.
Dr. Donald W. Schaffner is Extension Specialist in Food Science and Distinguished Professor at Rutgers University. His research interests include quantitative microbial risk assessment, predictive food microbiology, handwashing and cross-contamination.
Dr. Schaffner has authored more than 150 peer-reviewed publications, and numerous book chapters and abstracts.  He has been the recipient of more than $8 million in grants and contracts, largely in the form of competitive national grants.
Dr. Schaffner has educated thousands of Food Industry professionals through numerous short courses and workshops in the United States and dozens of countries around the world. Dr. Schaffner was awarded the International Association for Food Protection (IAFP) Elmer Marth Educator Award in 2009 for outstanding service to the public and IAFP in the area food safety and food protection education.
Dr. Schaffner has served on a variety of expert committees, including service to US National Academy of Sciences and the World Health Organization (WHO) and Food and Agriculture Organization (FAO) of the United Nations, the Institute of Food Technologists (IFT) and US National Advisory Committee on Microbial Criteria for Foods (NACMCF).
Dr. Schaffner is active in IAFP, IFT, the Society for Risk Analysis (SRA), the American Society for Microbiology (ASM), and the Conference for Food Protection (CFP).
Dr. Schaffner was elected a Fellow of IFT in 2010, of the American Academy for Microbiology in 2014 and of the International Association for Food Protection in 2017.
He has served as an editor for the ASM journal Applied and Environmental Microbiology since 2005.
Dr. Schaffner was elected the Secretary of the IAFP in 2010, a five-year commitment including service as President of the organization in 2013-2014.  .
He is the co-host of a podcast on microbial food safety at http://foodsafetytalk.com.
He holds a B.S. in Food Science from Cornell University and a M.S. and Ph.D. in Food Science and Technology from the University of Georgia.
Hand Washing

There are a lot on misconceptions about how on wash your hands, so we decided to apply some science to see what we could learn.
Our most important finding was that water temperature did not make any difference. We studied 60, 80, and 100°F, so no matter what temperature you'd like to use, don't worry, you will remove about the same number of bacteria.
We also studied four lather times: five, 10, 20 and 40 seconds.  We only saw a significant difference between five and 20 second lather times, so I recommend that you use a lather time of at least 10 seconds. Remember that lather time doesn't include the time it takes to apply soap or to rinse it off.
Finally, we compared antibacterial and non-antibacterial soaps. We saw a small but highly significant difference between plain and antibacterial soap.  If you are worried about removing or killing as many bacteria as possible, you should use an antibacterial soap.  FDA has recently banned many antibacterial compounds used in soaps due to their concerns about safety and efficacy, so these soaps may be harder to find in your local store. If you want to make extra sure your hands are clean, consider using hand sanitizer after your handwash.
Clearly there is much more research to be done in the field of handwashing. We know that hands that look clean (but still have bacteria) may clean-up differently than hands that are dirty with food, soil, or poop (as well as microorganisms). We also know that viral diseases can be spread by hands, and viruses might be more difficult to remove during hand washing.