Bruce Y. Lee, Johns Hopkins University – Physical Inactivity is Everyone's Problem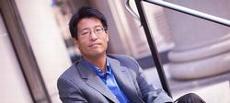 Today's kids are not getting enough physical activity.
Bruce Lee, Associate Professor of International Health at the Johns Hopkins Bloomberg School of Public Health, explores why this is something everyone should be paying attention to.
Bruce Y. Lee, MD, MBA is Associate Professor of International Health at the Johns Hopkins Bloomberg School of Public Health, Executive Director of the Global Obesity Prevention Center (GOPC) at Johns Hopkins (www.globalobesity.org), and Director of Operations Research at the International Vaccine Access Center (IVAC) as well as Associate Professor at the Johns Hopkins Carey Business School. Dr. Lee has over 15 years of experience in industry and academia in systems science and developing and implementing mathematical and computational methods, models, and tools to assist decision making in public health and medicine. He has been the Principal Investigator for projects supported by a variety of organizations and agencies including the Bill and Melinda Gates Foundation, the National Institutes of Health (NIH), the Agency for Healthcare Quality and Research (AHRQ), the Centers for Disease Control and Prevention (CDC), UNICEF, the Global Fund, and USAID.
His previous positions include serving as Senior Manager at Quintiles Transnational, working in biotechnology equity research at Montgomery Securities, and co-founding Integrigen, and serving as an Associate Professor at the University of Pittsburgh, where he founded PIHCOR (Public Health Computational and Operations Research), which is now based at Johns Hopkins.
Dr. Lee has authored over 190 scientific publications (including over 90 first author and over 40 last author) as well as three books: "Principles and Practice of Clinical Trial Medicine", "What If… ? : Survival Guide for Physician's, and "Medical Notes : Clinical Medicine Pocket Guide". He is an Associate Editor for the journal Vaccine and Deputy Editor for PLOS Neglected Tropical Diseases. He is a regular contributor to the Huffington Post and Forbes. He and his work have garnered attention in leading media outlets such as the New York Times, Los Angeles Times, Time, CBS News, Businessweek, U.S. News and World Report, Bloomberg News, Reuters, and National Public Radio (NPR). Dr. Lee received his B.A. from Harvard University, M.D. from Harvard Medical School, and M.B.A. from the Stanford Graduate School of Business. He completed his internal medicine residency training at the University of California, San Diego. His Twitter handle is @bruce_y_lee
His blog on the Huffington Post is at: http://www.huffingtonpost.com/bruce-y-lee/  To see his contributions to Forbes, please see: http://www.forbes.com/sites/brucelee/
Physical Inactivity is Everyone's Problem

These days, kids just aren't getting enough physical activity. Less than one third of children in the United States aren't even meeting the minimum requirements for physical activity as outlined by the Sports and Fitness Industry Association: 25 minutes of vigorous physical activity three times a week. Should you care…even if you don't have kids…or gasp…don't even like kids? Yes, absolutely.
Because it is costing you and everyone else money…billions. Our recent study showed that just increasing the proportion of children who meet the minimum SFIA standards from less than a third to 50 percent could decrease the number of obese and overweight youth by 4.18 percent, averting $8.1 billion in direct medical costs and $13.8 billion in lost productivity. Why? Physical inactivity can lead to weight issues which can lead to health problems such as diabetes, heart disease, strokes, and cancer. Health problems can lead to medical costs and lost productivity. Medical costs lead to insurance costs. Insurance costs lead to higher premiums for everyone. Lost productivity leads to business losses. Business losses hurt the economy. Hurting the economy hurts all of us.
Why are kids not more active? Broken systems. Broken social systems leading to sedentary lives. Broken school systems with physical education classes being cut. Broken environmental systems without enough parks, playgrounds, and safe walking paths. The list of broken systems goes on and on.
So this is everyone's problem. Because if our country doesn't change….it's going to cost everyone change…a lot of change.