Zvi Loewy, Touro College of Pharmacy – Cannabis and Parkinson's Disease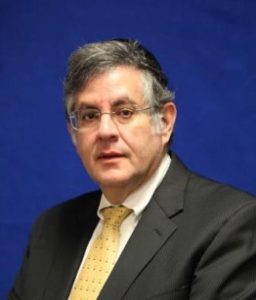 Could a treatment for Parkinson's symptoms already be available?
Zvi Loewy, Professor and Chair, Pharmaceutical and Biomedical Sciences, Immediate Past Dean at the Touro College of Pharmacy, takes a look at a somewhat unlikely source for relief.
Dr. Loewy has a diversified professional background that includes more than 30 years in academia, executive leadership with major global pharmaceutical companies, and creation and management of biotech startup companies.
Dr. Loewy is a graduate of Yeshiva University (B.A.), Rensselaer Polytechnic Institute (M.S.) and the Albert Einstein College of Medicine (Ph.D.).  In addition to his position at Touro College of Pharmacy, he is on the faculty of New York Medical College and serves on the boards of the Jerusalem College of Technology and the New Jersey Technology Incubator.
Dr. Loewy is a member of the scientific advisory board of C3 Jian, a private company focused on providing improved oral health care.  He is a member of the steering committee of the Pennsylvania Translational Research Partnership Institute and the Coulter advisory council, and he is an editor of the Journal of Prosthodontics.  Dr. Loewy has published broadly and holds over 25 patents
Cannabis and Parkinson's Disease

The current treatments for Parkinson's disease are lacking, both in their effectiveness in treating all of the symptoms of the disease and in their ability to slow the progression of Parkinson's.  The therapies out there are more or less for motor symptoms, but Parkinson's also has non-motor symptoms that greatly impact the quality of a person's life, such as insomnia, confusion, fatigue, and depression.
In recent years, my lab has focused on the use of natural products for medicinal purposes and specifically to enhance the quality of life. We began to look at marijuana as a treatment because of its effectiveness in treating other diseases.
In our study, we did a comprehensive literature review on marijuana, and found good evidence that it not only reduces motor symptoms of Parkinson's such as tremors and rigidity, but that it can reduce pain, insomnia, and depression as well. Because of the chemical complexity of marijuana—it contains more than 85 different phytochemicals—it provides multiple benefits that affect different symptoms of the disease.
In Parkinson's, the brain stops producing dopamine, a neurotransmitter that plays an important role in movement and many other physical, cognitive and psychological functions. The cannabinoids in marijuana bind to dopamine receptors to help reduce the effects of the dwindling dopamine.  
We also found some promising research that shows that marijuana may actually slow the progression of the disease. Marijuana has anti-inflammatory and antioxidant affects, which may prevent neuron damage and may even reverse it. Both inflammation and oxidation can damage dopamine-producing neurons. 
Cannabis may provide a viable alternative or addition to the current treatment of Parkinson's disease, but more research is needed to provide data on the efficacy and safety of marijuana and which of its molecular components would be the most beneficial.