Shannon Hinsa-Leasure, Grinnell College – Copper Reduces Infections in Hospitals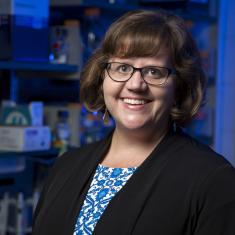 How do you reduce infections in hospitals?
Shannon Hinsa-Leasure, associate professor of biology at Grinnell College, explores whether changing the surfaces you touch may have a benefit.
Shannon Hinsa-Leasure is an associate professor of biology and an environmental microbiologist at Grinnell College in Iowa. Her research interests include microbial diversity, antibiotic resistance and genetic exchange, as well as bacterial adaptations to varied environments.
She is currently investigating the ability of copper alloy materials to reduce bacterial loads in hospitals and fitness centers. Additionally, she is studying antibiotic resistance gene profiles on farms, in collaboration with researchers at Iowa State University and the Agricultural Research Service at the U.S. Department of Agriculture. As time permits, she continues her study of microbial diversity and biofilm formation in Siberian permafrost.
At Grinnell, Hinsa-Leasure teaches courses in microbiology, environmental microbiology, cell biology and microbial pathogenesis. She also maintains an active laboratory with undergraduate students.
Hinsa-Leasure earned her B.S. in bacteriology at the University of Wisconsin-Madison and her Ph.D. from Dartmouth Medical School in molecular and cellular biology.
Copper Reduces Infections in Hospitals

Hospital-acquired infections (HAIs) are a serious concern in the medical industry. Of the 35.1 million discharges of in-patients in the U.S. each year, an estimated one in 25 contracts an HAI. In 2011, an estimated 10 percent of the 722,000 patients who contracted HAIs died from the infection.
High-touch surfaces in hospitals play a major role in transmitting infections. They serve as reservoirs for pathogenic microorganisms, including things like staph infections and c. dif., which can survive from days to months on dry surfaces. But research I conducted along with Undergraduates Queenster Nartey and Justin Vaverka shows that using copper alloy materials in place of stainless steel or porcelain on surfaces like faucets, grab bars, door handles, and keyboards reduced bacterial loads by an average of 98%.
These results agree with previous studies that showed copper alloys significantly reduced bacteria in intensive care units and it is true even of unoccupied rooms that have been cleaned. Bacteria often repopulate hospital surfaces, making it hard to maintain standards for surface-level cleanliness. In fact, we found no significant difference in bacterial loads between occupied and unoccupied rooms; suggesting that although a room is unoccupied and may look clean, it does not guarantee the surfaces are free of bacteria.
This study demonstrates that patients entering rooms with copper surfaces are exposed to substantially fewer bacteria and highlights the ability of copper alloys to maintain bacterial loads at or near cleanliness standards following terminal cleaning of the room. In other words, copper is key to protecting newly admitted patients from contracting infections and is integral to an effective infection-control strategy.