Paul Graham, St. Lawrence University – Celiac Disease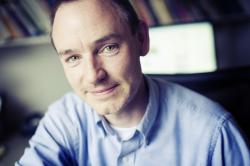 Celiac disease and gluten have become big topics in the news.
Paul Graham, associate professor of English at St. Lawrence University, takes a detailed look at this rare affliction.
I first came to St. Lawrence in 1995, as a student. I was an English-Writing and Government double major. After graduation, I went to the University of Michigan, where i focused on fiction writing, and also wrote nonfiction, in the MFA Program in Creative Writing. Fortunately, I was eventually able to return to St. Lawrence, and I've been a permanent member of English department since 2007. My primary teaching emphasis is in fiction and creative nonfiction writing. I've also taught literature courses–Methods of Critical Analysis, Critical Survey of Literature, The Short Story, The Personal Essay, and Senior Seminars. Outside the English Department, I've taught in the First Year Program; the content of these courses focuses on food literature.
My creative and scholarly interests have evolved since I've arrived here. For several years, I worked on a book of short stories that explored conflicts grounded in gender, sexuality, desire, and repression. Soon I will publish a hybrid of memoir, natural history, gastronomy, and science that explores the experience that comes from the autoimmune disorder celiac disease (which I have). I've also written some criticism and essays on the writing process.
Some of my interests include cooking (of course), hiking and canoeing (especially with my dog), running, and, when I can, spending time in the Adirondacks, Ottawa, and Burlington.
Celiac Disease

Celiac disease is an autoimmune disorder in which gluten—found in wheat, barley, spelt, and rye—cues T cells to destroy healthy intestinal tissue. Approximately 1:133 Americans have celiac disease. More than half are mis- or undiagnosed.
According the Mayo Clinic, the incidence of celiac disease has increased fourfold in America since 1950. Better diagnostics cannot alone account for the increased prevalence.
Some causal theories point modern wheat's inclusion of an antigenic compound called 33-mer gliadin, which was likely absent from ancient wheat. Pest-resistance molecules have also been identified as potential causes.
The "Hygiene Hypothesis" identifies the decrease in breastfeeding, overuse of antibiotics, and the use of antibiotic in feedlot animals as assaults on the "Human Mircobiome."Altered gut flora may lead to gluten intolerance, especially among those pre-disposed to celiac.
And yet, causation is complicated by the historical record, and by eating habits in America. The discovery of celiac disease in AD 100, for instance, which predates antibiotics and municipal sanitation, casts doubts (but  does not rule out) both the hygiene and altered-grain theories.
Contemporary Western eating habits, including processed foods, may play a key role, especially if the grains are different, and the overall environment is more hygienic. Modern preparation methods are also suspect. For example, faster leavening may prevent the breakdown of pathogenic proteins in factory-baked bread.
The multiple routes to gluten pathogenesis, combined with contemporary eating habits, food sources, and commercial food preparation, all point to many factors that are difficult to untangle. Together, they suggest the additional costs of an industrial food system heavy on processed foods as much as they point to potential causes of celiac disease.