The Academic Minute for 2016.11.21-11.25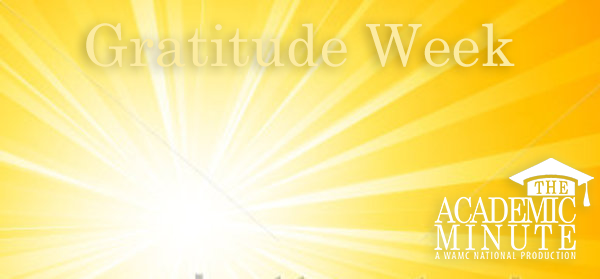 Academic Minute from 11.21 – 11.25
Monday, November 21st
Laura Russell – Denison University
Reading Reality Through The Lens of Gratitude
Dr. Laura Russell is an Assistant Professor of Communication at Denison University. Drawn to issues concerning individual and collective well-being, she centers her research on understanding the communication of personal and relational health. As a phenomenologist at heart guided by theories of narrative and dialogue, she observes, participates in, and examines processes of human recovery in an array of contexts. In her current work she investigates how virtues, such as gratitude and forgiveness, play a prominent role in how people construct meaning for living well after crisis and/or personal struggle. Furthermore, she explores ethical questions concerning the social politics of health and human worth. Her recent publications appear in Health Communication, Qualitative Inquiry, and Life Writing.
Dr. Russell's received her Ph.D. from the School of Communication Studies at Ohio University. Her foci on health and organizational communication not only apply to her scholarship, but also to her community involvement. She currently holds a position on the Board of Directors for Behavioral Healthcare Partners, a nonprofit organization that serves Licking and Knox Counties in Ohio. In this role, she seeks opportunities to involve both her students and surrounding community members in serving the well-being of others.
Tuesday, November 22nd
Nathan Deichert – Black Hills State University
Impact of Gratitude on Stress
Dr. Deichert earned his Ph.D. in Experimental Social-Health Psychologist from Kent State University in 2007 and is currently an Assistant Professor of Psychology at Black Hills State University in South Dakota.  Dr. Deichert's research program focuses on the relationship between social relationships, emotions, and health outcomes.  Currently, research in his lab is examining how the experience of gratitude promotes psychological and physical well-being with a particular focus on how gratitude alters people's reactions to stressful events.
Wednesday, November 23rd
Raymond Boisvert – Siena College
Gratitude and Giving Thanks
Educated in Rhode Island, Switzerland, the University of Toronto and Emory University in Atlanta, Raymond Boisvert made his academic reputation with two books on the American philosopher John Dewey. Hired at Siena in 1984, he has taught a variety of courses including Classical American Philosophy, Asian Philosophy, the Philosophy of Religion and many sections of philosophy and the human being. For many years he was head of the college core, teaching in the first year course then known as the Foundations Sequence. Recently he has joined the teaching team for the new first year course, the First Year Seminar. The theme for that course, "Food, Values, Culture" reflects his new interest in the area of philosophy and food. Two of his books on that topic will be published in the next several years.
Thursday, November 24th
Ashli Stokes – University of North Carolina Charlotte
Thanksgiving Food and Gratitude
Ashli Quesinberry Stokes (Ph.D., University of Georgia) is an Associate Professor of Communication Studies and the Director of the Center for the Study of the New South at the University of North Carolina at Charlotte. Her award-winning research specializes in using rhetorical approaches to analyze public communication and public relations controversies, often concerning activism and corporate advocacy. In addition to her recent book about the rhetorical nature of Southern foodways, Consuming Identity: The Role of Food in Redefining the South (with Wendy Atkins-Sayre; University Press of Mississippi), she co-authored a textbook about global public relations with Dr. Alan Freitag, and has published in the Journal of Public Relations Research, Journal of Communication Management, Public Relations Review, the Southern Communication Journal, Studies in Communication Sciences, and the Encyclopedia of Public Relations, among others. Before returning to academia, Stokes worked in agency and corporate public relations in Atlanta, GA.

Friday, November 25th
Philip Watkins – Eastern Washington University
Gratitude Exercises
Philip Watkins received his BS in psychology from the University of Oregon and his PhD in clinical psychology from Louisiana State University. He is now is Professor of Psychology at Eastern Washington University. Gratitude has been the focus of his research since 2000. Phil is the author of two books (Gratitude and the Good Life and Positive Psychology 101), and has authored a number of research articles on gratitude. He has served as an associate editor of the Journal of Positive Psychology, and is currently on their editorial board. His research now investigates questions related to how gratitude enhances well-being, the nature of gratitude toward God, and the factors that enhance or inhibit gratitude.