Laura Sonter, University of Vermont – Nature and Selfies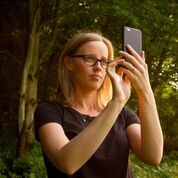 Taking selfies in nature could help the outdoor space you're visiting.
Laura Sonter, Postdoctoral researcher at the University of Vermont, describes how she used uploaded photos to see where people are visiting the great outdoors and if this should be where the money goes.
Laura is a post-doctoral research associate at the Gund Institute for Ecological Economics. Her research seeks to understand global drivers of land use change and their impacts on biodiversity and ecosystem services. Currently she is interested in quantifying and simulating the impacts of land use and climate change on the provision and economic value of ecosystem services provided by the northern forests of New England. Laura also has extensive experience working on mining-induced land use change in both Australia and Brazil. In her spare time she enjoys hiking and traveling. For more information please see Laura's personal website: www.laurasonter.com or email her at the address listed above.
She is currently a post-doctoral associate at the Gund Institute for Ecological Economics at the University of Vermont. Her research will explore how land use, climate change and management interventions affect forest-related ecosystem services in New England.
Nature and Selfies

Remember the last time you spent a day in nature?  Maybe you visited a local park for a BBQ, or took a 3 day hike through mountains – swimming in waterholes, bird watching, just getting away from it all. Chances are that you posted a photo on social media – maybe even a selfie or 2 – to commemorate the experience. 
In a recent study, my research team and I used those social media images to measure the value of outdoor recreation on public lands.
Why's this important?
Around the world, land managers are tasked with conserving natural spaces and making major investment decisions to enhance their recreational value. To do this well, they need to know where people recreate and why.
Unfortunately, this data has been hard to come by. Many parks only staff entrance booths in the summer, while others gather no data at all.
In our study, we show that social media provides an important new way to do this.
We were the first to use social media to assess the use and value of protected lands for outdoor recreation across an entire U.S. state.
Analyzing more than 7000 photographs uploaded to the photo sharing website Flickr, we found 29 million people visited Vermont's conserved lands between 2007 and 2014, contributing $1.8 billion to the state's tourism industry.
Our results also reveal where people recreate and why. We found Vermonters visited parks with well-maintained forests and more opportunities to swim in summer and ski in winter.
This information is powerful – it helps land managers make informed decisions on where to conserve nature and how their recreational value can be enhanced.
So the next time you snap a photo in a national park or tweet about the moose you just saw on the trail, feel good knowing that your data may help conserve that piece of land for future generations.
Read More: