The Academic Minute for 2016.10.24-10.28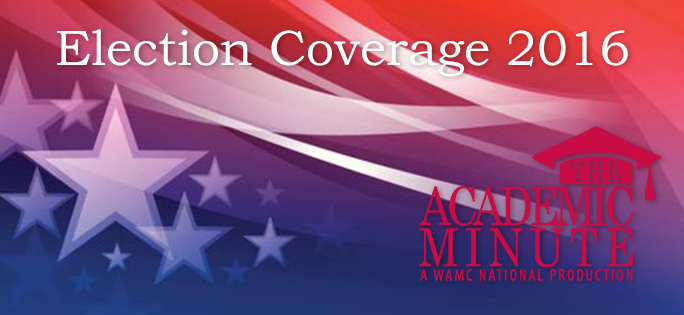 Academic Minute from 10.24 – 10.28
Monday, October 24th
Corey Seemiller – Wright State University
Young Voters
Dr. Corey Seemiller received her Bachelor's degree in Communication from Arizona State University, Master's degree in Educational Leadership from Northern Arizona University, and Ph.D. in Higher Education from the University of Arizona. She has worked as a leadership educator in higher education, K-12, non-profits, military, and in the community for more than 20 years.
Prior to her role as Assistant Professor in Organizational Leadership at Wright State University, Dr. Seemiller served as the Director of Leadership, Learning, and Assessment at OrgSync, Inc., a campus management technology platform for more than 450 colleges internationally. She oversaw all thought leadership initiatives and leadership research. She also served as the Director of Leadership Programs at the University of Arizona from 2006-2014 overseeing more than 3,000 participants in 10 leadership programs. She created and coordinated the Minor in Leadership Studies and Practice at the University of Arizona and served as an adjunct Assistant Professor in the minor for 13 years. Dr. Seemiller has taught at public and private as well as two-year and four-year institutions. She has taught courses on foundations of leadership, emotional intelligence, global leadership, social justice leadership, critical perspectives on leadership, organizational leadership, leadership for social change, and research methods.

Tuesday, October 25th
Jack Rakove – Stanford University
Executive Power and the Electoral College
Jack Rakove is the William Robertson Coe Professor of History and American Studies and professor of political science and (by courtesy) law at Stanford, where he has taught since 1980. His principal areas of research include the origins of the American Revolution and Constitution, the political practice and theory of James Madison, and the role of historical knowledge in constitutional litigation. He is the author of six books, including Original Meanings: Politics and Ideas in the Making of the Constitution (1996), which won the Pulitzer Prize in History, and Revolutionaries: A New History of the Invention of America (2010), which was a finalist for the George Washington Prize, and the editor of seven others, including The Unfinished Election of 2000 (2001). He is a member of the American Academy of Arts and Sciences, the American Philosophical Society, and a past president of the Society for the History of the Early American Republic.
Wednesday, October 26th
Amy Bree Becker – Loyola University Maryland
Political Comedy
Amy Bree Becker is an assistant professor in the Department of Communication at Loyola University Maryland. Her research focuses on public opinion, political entertainment and comedy, elections and political engagement, and new media. Becker earned her PhD from the University of Wisconsin-Madison and lives with her family in Columbia, Maryland.

Thursday, October 27th
Matthew Moen – University of South Dakota
Civility in Politics
Matthew C. Moen currently serves as Dean of the College of Arts and Sciences, Lohre Distinguished Professor, and Professor of Political Science. Past roles include: President of the New England Political Science Association; Chair of the APSA Professional Ethics Committee; Elected Chair of the APSA Religion and Politics Division (twice); Member of the APSA Task Force on Interdisciplinarity; Section Chair for the Northeastern Political Science Association, the New England Political Science Association, and the Social Science History Association; Chair of the Department of Political Science and Director of the Congressional Fellowship Program at the University of Maine; and, a Congressional Fellow working in the U.S. House of Representatives.

Friday, October 28th
Stephen Lind – Washington and Lee University
The Great Pumpkin
Stephen Lind joined the Business Administration Department in 2013 to lead in the Williams School's innovative oral communication initiative. Professor Lind teaches courses in modern professional communication such as presentation design, business writing, and digital video creation while also working with the CommCenter. He has taught communication skills and concepts at the university level since 2005. Prior to teaching, Lind competed nationally on the policy debate circuit under the training of presidential debate coach Brett O'Donnell.
A 2016 National Association of Television Program Executives Faculty Fellow, Professor Lind's primary research area is the intersection of religion and the entertainment industry. His book on the religious life and work of Peanuts cartoonist Charles M. Schulz ("A Charlie Brown Religion: Exploring the Spiritual Life and Work of Charles M. Schulz"), has been praised by the Schulz family and featured in a number of international and national media outlets, such as BBC Radio 4, and his analysis of the franchise has been published in the Wall Street Journal.