Stephen Lind, Washington and Lee University – The Great Pumpkin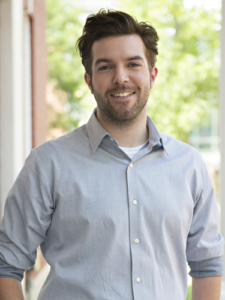 The Great Pumpkin and Charlie Brown are part of Halloween.
Stephen Lind, assistant professor of business administration and communication at Washington and Lee University, takes a deeper look at this classic TV special and the lessons it tells us about faith and doubt.
Stephen Lind joined the Business Administration Department in 2013 to lead in the Williams School's innovative oral communication initiative. Professor Lind teaches courses in modern professional communication such as presentation design, business writing, and digital video creation while also working with the CommCenter. He has taught communication skills and concepts at the university level since 2005. Prior to teaching, Lind competed nationally on the policy debate circuit under the training of presidential debate coach Brett O'Donnell.
A 2016 National Association of Television Program Executives Faculty Fellow, Professor Lind's primary research area is the intersection of religion and the entertainment industry. His book on the religious life and work of Peanuts cartoonist Charles M. Schulz ("A Charlie Brown Religion: Exploring the Spiritual Life and Work of Charles M. Schulz"), has been praised by the Schulz family and featured in a number of international and national media outlets, such as BBC Radio 4, and his analysis of the franchise has been published in the Wall Street Journal.
Professor Lind's research can also be found in academic journals including The Journal of Religion and Popular Culture, ImageTexT, Text and Performance Quarterly, and Communication Teacher in which he introduces the term "digital oratory." He also writes media analysis content at ReligiMedia.com.
Professor Lind earned his PhD with distinction from Clemson University's transdisciplinary doctoral program in Rhetorics, Communication, and Information Design. As an active member of the National Communication Association and Popular Culture Association, Professor Lind regularly presents at national conferences and has served as a corporate consultant.
The Great Pumpkin

"There are three things that I've learned never to discuss with people," Charles M. Schulz once had his cartoon character Linus say – "religion, politics, and the Great Pumpkin." But Schulz dared break those rules and talked about all three – especially issues of faith and a supernatural squash in his blockbuster Halloween classic, "It's The Great Pumpkin, Charlie Brown."
The show aired on CBS in 1966. It was the third installment for the Peanuts franchise, following the groundbreaking "A Charlie Brown Christmas" in December of 1965 and a less successful "Charlie Brown's All-Stars" in the summer of 1966.
In the special, Charlie Brown fails to succeed at trick or treating. "I got a rock" is all he could report. Many viewers sent in candy to the studio in a show of support.
Meanwhile, Charlie Brown's little sister Sally and philosophical compatriot Linus await the arrival of The Great Pumpkin in a nearby pumpkin patch – one with nothing but sincerity as far as the eye can see. The Great Pumpkin's failure to ever arrive established, for many, the Great Pumpkin as a symbol of false hope – sincere but misguided faith.
Schulz had not originally intended his trope to carry so much weight, originally crafting the scene in a 1958 strip based simply on Linus getting his holidays confused – was Christmas or Halloween next? And who was it that brings toys to good little kids?
Schulz himself believed that both doubt and belief were important saying "[Our Heavenly Father] understands your doubts, your fears and even your desires."
50 years after its initial airing to over 17 million viewers, The Great Pumpkin remains such a touchstone of doubts, fears, and likewise faith for viewers of all varieties – the skeptics and those with nothing but sincerity as far as the eye can see.