David Cox, University of Surrey – The World's Smallest Snowman
Do you want to build the world smallest snowman?
David Cox, a fellow at the University of Surrey, did just that in a recent nanotech experiment!
Dr. David Cox is a research fellow at the University of Surrey's Nanoelectronics Centre. He went to the University of Surrey as a post-doc microscopist, initially in the School of Electronic Engineering, and now works in the Advanced Technology Institute, as a research fellow. During the last seven years, he has been seconded to the National Physical Laboratory as strategic research fellow where he works in the Quantum Detection group. His main role in the group is as a fabricator of devices for other members of the group to measure. He now spends most of his time machining, welding and fabricating things at the micro and nano scale.
The World's Smallest Snowman

Winter is here, but one thing the south of England is not known for is deep snow. So how do you make a snowman when there's no raw material around?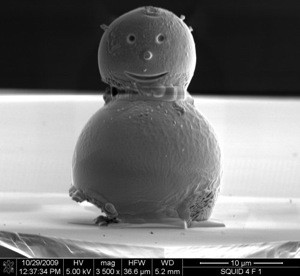 Well, being nothing but a big kid myself, and working in the field of nanotechnology I set about making a snowman without snow and so small you need an electron microscope to see it. At only ten micrometers wide and under 30 micrometers tall, it's made of two balls of the metal tin. For a nose, I gave it not a micro-carrot, but a tiny ball of platinum 300 nanometers across. This character is very small: its head is the size of a human red blood cell and its nose, the size of a virus. If a hair dropped in front of it, it would be completely obscured!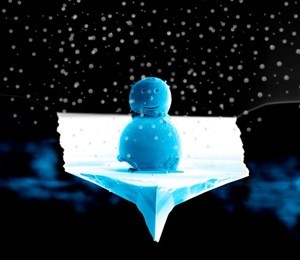 At this point you might be wondering how and why. The how involves a tool unique in the world: an ion microscope with the capability to shape and manipulate incredibly small quantities of matter. As to the reason why, it's not just for a bit of festive fun: using the same equipment and techniques, we make and test superconducting devices that can reach the limits of human measurement capabilities. With these we can measure the magnetization of clumps of only a few tens of atoms and can analyze future digital memory and computing circuits. They are also great tools for studying the fundamental physics of the very small.
The tiny snowman made a sensation across the world, and I'm pleased to see it's been taken up by a bunch of children's science magazines. It's been the perfect ambassador in enthusing tomorrow's engineers about the wonders of the micro and nano world. Had I made a snowball and thrown it at you, it wouldn't' have made anywhere near as much impact.