Richard Veit, Monmouth University – The Culture of Cemeteries
Graveyards are spooky. As such, they often serve as the backdrop for scary scenes in literature and film.
But, Richard Veit, professor of anthropology at Monmouth University, will show us that cemeteries are much more than a scary setting. In fact, graveyards embody a rich cultural, historical and artistic presence.
Richard Veit is Professor of Anthropology and Chair of the History and Anthropology Department at Monmouth University. Dr. Veit received his BA from Drew University in 1990, his MA in Historical Archaeology from the College of William and Mary in 1991, and his PhD. in Anthropology from the University of Pennsylvania in 1997. In 2007 he was the recipient of Monmouth University's Distinguished Teacher Award and in 2012 he received Monmouth University's Donald Warnecke Award for outstanding university service. At Monmouth he teaches courses on archaeology, historical archaeology, New Jersey history, Native Americans, and historic preservation.
He has authored or co-authored numerous articles and reviews and five books including Digging New Jersey's Past: Historical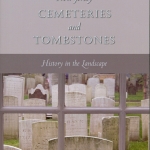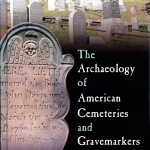 Archaeology in the Garden State (Rutgers Press 2002), New Jersey Cemeteries and Tombstones History in the Landscape (co-authored by Mark Nonestied, Rutgers Press 2008), and New Jersey: A History of the Garden State (co-authored with Maxine Lurie, Rutgers Press 2012). His first book, Digging New Jersey's Past, received awards from the New Jersey Historic Preservation Office, New Jersey Academic Studies Alliance, and the New Jersey Center for the Book at Rutgers University. Two of his books, Digging New Jersey's Past and New Jersey: A History of the Garden State are listed on the New Jersey State library's 101 Great New Jersey books list. He serves on the New Jersey Historical Commission and on the boards of the Society for Historical Archaeology, Council for Northeast Historical Archaeology, Crossroads of the American Revolution, and the Archaeological Society of New Jersey. He is President Elect of the Middle Atlantic Archaeological Conference. His research interests focus on the archaeology of early American life and as revealed by artifacts, architecture, and landscapes.
The Culture of Cemeteries

For most Americans, cemeteries are scary, spooky places to be avoided as long as humanly possible. 
But once a year, at Halloween, cemeteries move out of the shadows and into the spotlight as gravestones sprout on suburban lawns and little ghosts and ghouls trick or treat.  As a historical archaeologist who studies America's past through the lens of cemeteries, I am interested in what gravemarkers and cemeteries can tell us about American culture.  Despite being populated entirely by dead people, they speak volumes about America's past. 
Colonial burying grounds from New England to the Carolinas are filled with carefully carved gravestones ornamented with images of skulls and crossed bones, cherubs, and memorial urns.  They reflect changing ideas about art, death, and salvation in the pre-industrial world. 
By the late 1800s, many urban burying grounds were crowded and unsightly. Following European models, Americans began to build true cemeteries: Mount Auburn outside Boston, Laurel Hill in Philadelphia, and Greenwood in Brooklyn.  Gravestones were replaced by artistic monuments set in carefully landscaped grounds. 
The 20th century saw yet another change in America's burial places when Hubert Eaton began America's first memorial park, Forest Lawn in Glendale, California.  Modest memorials set flush with the ground to facilitate mowing, and grounds decorated with ornamental sculpture replaced Victorian ostentation. 
Modern burial grounds reflect the diversity of American culture. Witty epitaphs, such as "I told you I was sick" bring humor to the cemetery and web addresses and QR codes carved on memorials remind us that even after we are gone our digital avatars live on. So next time you happen upon a cemetery, be sure to take note of the above-ground history, art, genealogy, and culture memorializing those lying below the ground.