Jenny Sabin, Cornell University – AI Architecture Driven by Humans, Powered by AI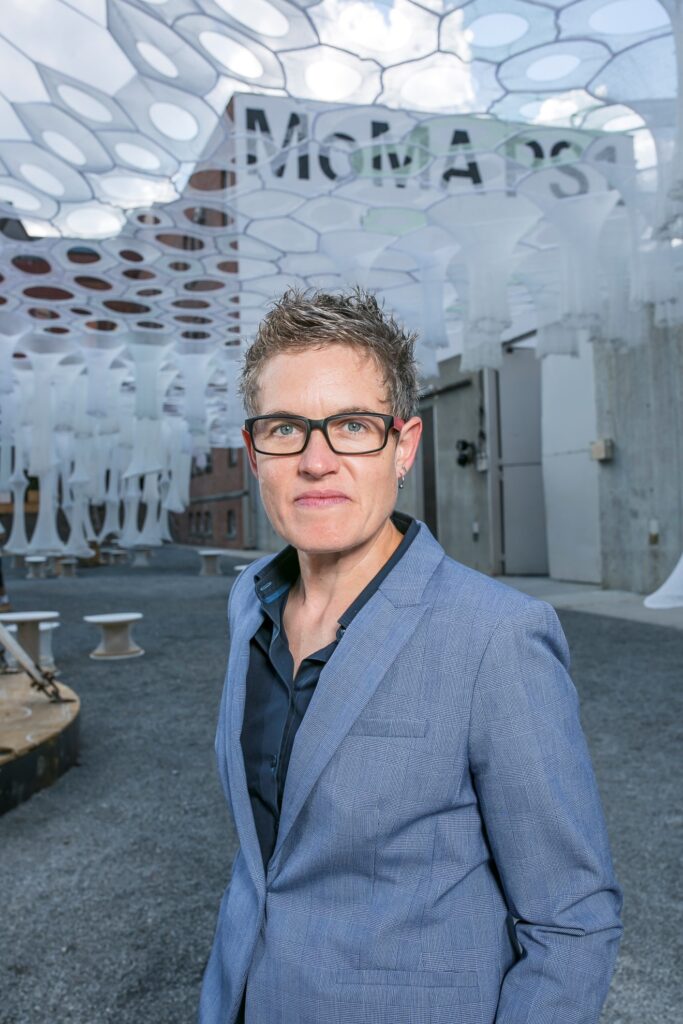 On Cornell University's Impacts of A.I. Week:  How humans interact with artificial intelligence may take many forms.
Jenny Sabin, Arthur L. and Isabel B. Wiesenberger Professor in Architecture & Inaugural Chair of Design Tech, details a piece of architecture that humans and A.I. can help influence.
Jenny E. Sabin is an architectural designer whose work is at the forefront of a new direction for 21st century architectural practice — one that investigates the intersections of architecture and science and applies insights and theories from biology and mathematics to the design of responsive material structures and ecological spatial interventions for diverse audiences. Sabin is the Arthur L. and Isabel B. Wiesenberger Professor in Architecture and the inaugural Chair for the new multi-college Department of Design Tech at the Cornell College of Architecture, Art, and Planning where she established a new advanced research degree in Matter Design Computation. She is principal of Jenny Sabin Studio, an experimental architectural design studio based in Ithaca and Director of the Sabin Design Lab at Cornell AAP. Her book, LabStudio: Design Research Between Architecture and Biology, co-authored with Peter Lloyd Jones was published in July 2017. In that same year, Sabin won MoMA & MoMA PS1's Young Architects Program with her submission, Lumen.
AI Architecture Driven by Humans, Powered by AI

The first architectural pavilion project to incorporate Artificial Intelligence, Ada is a lightweight knitted pavilion structure composed of responsive and data-driven tubular and cellular components held in continuous tension via a 3D printed semi-rigid exoskeleton. Ada is a cyber-physical architecture driven by human participation and powered by individual and collective sentiment data collected throughout the Microsoft Research Building 99 through a network of cameras. The comprehensive interactive and semi-permanent installation was designed by Jenny Sabin Studio in collaboration with Microsoft Research as part of MSR's Artist in Residence program.
Named after the polymath, first computer programmer, and early innovator of the computer age, Ada Lovelace, this collaborative project embodies performance, material innovation, adaptive architecture, artificial intelligence, and affective computing. A network of sensors and cameras located throughout the building offer multiple opportunities for visitors and participants to engage, interact with, and drive the project. The data include facial patterns, voice tones, and sound that are processed by AI algorithms and correlated with sentiment. Three scales of responsive and gradated lighting, respond in real time to continuous streams of sentiment data. These data are correlated with colors, spatial zones within the project, and responsive digitally knit materials.
An important aim of the project was to expand and inspire human engagement. While artificial intelligence powers the project through the precise narrowing and statistical averaging of data collected from individual and collective facial patterns and voice tones, the architecture of Ada augments emotion through aesthetic experience, thereby opening the range of possible human emotional engagement. In turn, the project opens new pathways for fundamental research on the use of AI to correlate connections between human sentiment and local environment. Ada is also used as a platform for researchers to test their data and machine learning algorithms. Suspended from three points and hovering above the ground floor of the atrium, Ada is a socially and environmentally responsive structure.
Read More:
[Jenny Sabin Studio] – Ada
[Routledge] – LabStudioDesign Research between Architecture and Biology
[UCL Press] – Fabricate 2020 Making Resilient Architecture