Elizabeth Brown, Bentley University – Employers Monitoring Employee Health Data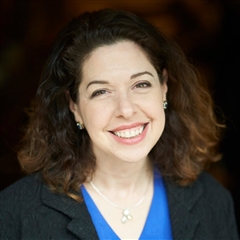 On Bentley University Week:  Your health is now more important than ever to your employer.
Elizabeth Brown, associate professor of law, details what this means for privacy rights of employees'.
Liz Brown is an Associate Professor of Business Law at Bentley University. She earned her B.A. from Harvard College and her J.D. from Harvard Law School. She represented Fortune 100 companies as a litigator for 13 years before joining the Bentley faculty. As a former partner in an international law firm specializing in intellectual property, Professor Brown's extensive experience with practical applications of law in business, especially with regard to emerging technologies, informs her teaching and award-winning research.
Employers Monitoring Employee Health Data

My research looks at the unintended risks and consequences of monitoring employees' health data. Employers increasingly ask their workers to give them access to health data collected through wearable biometric monitors like Apple Watches or Fitbits. Employers  usually do this through workplace wellness programs, which give employees financial rewards in exchange for access to data including the employees' activity levels, heart rate, etc. which are commonly tracked by those watches and the health apps that go with them. 
Employers collect that health information because they believe it will help lower their health insurance costs over time, and because the Equal Employment Opportunity Commission allows them to do so. Biometric monitoring can also help workers become more efficient and reduce workplace injuries. 
But now, employers are going to be monitoring employee health much more closely as they reopen after the coronavirus pandemic. Recent changes in federal laws encourage them to do so to reduce the risk of COVID-19 transmission. 
Here's the problem: this data collection can come back to bite employees in ways that current state and federal laws do little to stop. The health data that employers are collecting can increase the risk of employees being fired, or suffering in other ways at work, which would not be considered illegal discrimination in most cases. 
Employees are also likely to lose whatever privacy rights they think they may have in that health data because the way wellness plans collect that data isn't covered by HIPAA. My research suggests three alternative ways to restore rights to employees. Decoupling health insurance from work, strengthening health privacy regulations, and writing new privacy laws focusing on employee data, while recognizing that increased health data collection is going to be an essential element of our workplaces in the future.