Alexandros Tsamis, Rensselaer Polytechnic Institute – Future of Cities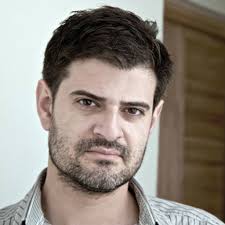 What will cities look like in the future?
Alexandros Tsamis, assistant professor of architecture at Rensselaer Polytechnic Institute, looks at a post-COVID-19 urban environment.
Alexandros Tsamis is an Architect and Assistant Professor at the School of Architecture, RPI. He currently serves as the Graduate Program Director of Built Ecologies MS & PhD and as the Associate Director of the Center for Architecture Science and Ecology, CASE. Previously, he was the post professional graduate program director in Design at Adolfo Ibanez University in Chile, he taught at Massachusetts Institute of Technology and the Knowlton School of Architecture. He has received awards in international architectural competitions; First prize in the International Architecture Competition "London Architecture Gallery", first prize in the International Design Competition" Gillette Landmark" and a prize in the "Design of Ephemeral Structures" for the Athens Olympics. His work focuses on advanced materials and manufacturing technologies as they relate to advances in computation. He investigates issues related to tectonics and material economies of the built environment at scales that range from that of the object to that of the territory. He has received patents for innovation in materials. His work has been published internationally including the Architectural Design (AD), the Journal of Architectural Historians, Architecture in Formation, Thresholds, Pidgin, 306090 and exhibited widely, including the Museum of Design in Barcelona, the Biennale of Venice, of China and of Chile, RIBA London and the Byzantine Museum of Greece.
Future of Cities

Cities have long been vital to the growth and health of nations. They are economic drivers and cultural centers creating community… employment… common bonds. Yet the social distancing and sanitizing necessary for saving lives during this pandemic actually go against some of the basic principles of sustainability and the shared economy. These pandemic precautions cannot last in the face of a much bigger problem: climate change.
However, while cities will eventually return to shared office space and public transportation, there are things that COVID-19 will leave behind as a long-term legacy in the built environment. The most visible will be the significant changes in the way we work.
With many companies announcing working from home as a viable scenario for the future, people will chose to live where the weather is good or salaries offer a higher standard of living. It will not be about where your office is physically located, but more about where it's convenient for you to live.
Imagine how this will affect real estate as cities transform. 
We will soon be talking about a large office building stock in metropolitan areas that will need to be reevaluated, rezoned, and restructured.
In the long run, this will have a significant impact on the form of the future city.
COVID-19 has also revealed a self-preservation mechanism from governments and the public. If there is a threat, an immediate threat, people will act. This shows us that if climate change is perceived as an immediate threat there is a chance that governments and society will address it. But for now, climate change is still too abstract, too big.
It remains to be seen exactly how metropolitan areas will evolve. But they will change. Because of COVID-19, we are seeing an evolution in the future of cities… in real time.