Andrew Kahn, SUNY Buffalo State – Story Based Learning: Re-engaging a Disconnected Generation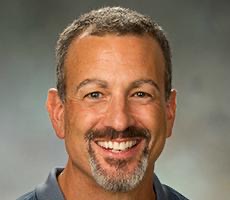 On SUNY Distinguished Academy Week:  Are future teachers being trained for the students of today?
Andrew Kahn, distinguished service professor at SUNY Buffalo State College, delves into this question.
Drew Kahn is a Distinguished Service Professor at SUNY Buffalo State where he has taught acting, devised theater (President's Award for Excellence in Teaching/SUNY) and directed productions (Kennedy Center Award) for 26 years. He taught K-12 populations for 10 years previous to his work in higher education. He is the Founding Director of The Anne Frank Project, a multi-layered social justice initiative at SUNY Buffalo State that utilizes the wisdom of Anne Frank as a springboard for the examination of genocide and intolerance through the lens of story and performance. He presents and teaches internationally on the universal language of theater and the intersection of story, conflict resolution and community building—most recently in Rwanda, Kenya, Switzerland, the Democratic Republic of the Congo, Burma, Viet Nam, Morocco, New Zealand, Greece, Croatia and Turkey (Toby Ticktin Back Award for Holocaust Education, Community Leader Award, National Federation for Just Communities). Professor Kahn's book Story Building: A Practical Guide for Bringing the Power of Stories into the Classroom is used by teachers and community leaders all over the world. Professor Kahn has extensive acting experience in professional theater (Andre' DeShields' original cast of Saint Tous), feature film (Paramount Pictures' Necessary Roughness) as well as several television and commercial credits. In Buffalo, New York, he was the host of WKBW-TV's (ABC) AM Buffalo for six years, hosted the WNED (PBS) documentary Saving a Landmark: The Darwin Martin House (National Telly Award), and has numerous local stage credits including In a Dark, Dark House, Lobby Hero, A Cat On A Hot Tin Roof and Baltimore Waltz (ArtVoice Artie Award). He received an MFA from Southern Methodist University and a BA from San Diego State University. His favorite roles are husband to his wife Maria and dad to his children Sam and Nate.
Story Based Learning: Re-engaging a Disconnected Generation

It is no secret that current education systems, kindergarten through college, point to competency-based learning as a primary component of academic success. Today's students live in a different world than the western, knowledge-based education systems of the past.  With multiple sources of information at their fingertips (literally), today's students are craving skills in the physical application of their knowledge.  Educators feel this tension as they are now required to be both facilitators of learning and distributors of knowledge.  The problem:  Future teachers are not being trained to meet the kinesthetic learning needs of today's students.  The solution:  Story-Based Learning (SBL). 
SBL uses student-group-created stories to move the content of the lesson from their brains to their hearts by using their bodies, thus enabling the student to make personal connections to the curriculum with an immediate platform to express their learning. Doing informs and personalizes the knowing.  By using stories as the curricular vehicle and the student's bodies as the assessment tool teachers draw immediate connections between the curriculum and their students—the students become active co-owners of the content, the process and classroom—the student learns the content for their lives rather than memorizing the information for an exam. 
The positive outcomes of SBL in schools around the globe include improved test scores, attendance and in-class participation in every subject area. Perhaps most importantly, SBL offers a practical toolbox for teachers to fill the gaping holes in socio-emotional education.  Compromise, collaboration, discipline, creativity, compassion, innovation, research and critical thinking are the core skills students develop as they build their stories together.  SBL re-engages students to their learning by involving them in their education.  Students learn they matter and their stories matter in a world that, too often, tells them something quite different.