The Academic Minute for 2020.10.12-2020.10.16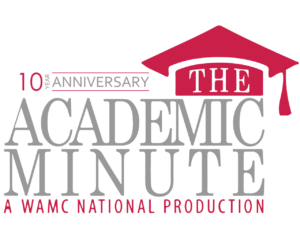 The Academic Minute from 10.12 – 10.16
Monday, October 12th
Ron Mallett – University of Connecticut
Theories of Time Travel
Professor Ronald L. Mallett received his B.S., M.S. and Ph.D. in physics from the Pennsylvania State University. He worked for United Technologies from 1973-5, and in 1975 joined the physics faculty at the University of Connecticut in Storrs where he is currently Research Professor and Physics Professor Emeritus. Professor. Mallett has published numerous papers on black holes and cosmology in professional journals. His breakthrough research on time travel has been featured extensively in the media around the world, including print media such as New Scientist, the Village Voice, the Boston Globe, Rolling Stone magazine and The Wall Street Journal, and broadcast media such as NPR's This American Life, the History Channel, the National Geographic Channel, the Science Channel, ABC's Good Morning America and NBC's Today Show
Tuesday, October 13th
Jack Gilbert – University of Chicago
Diversifying Your Microbiome
Professor Jack A Gilbert earned his Ph.D. from Unilever and Nottingham University, UK in 2002, and received his postdoctoral training at Queens University, Canada. He subsequently returned to the UK in 2005 to Plymouth Marine Laboratory at a senior scientist until his move to Argonne National Laboratory and the University of Chicago in 2010. Currently, Professor Gilbert is in Department of Surgery at the University of Chicago, and is Group Leader for Microbial Ecology at Argonne National Laboratory. He is also Associate Director of the Institute of Genomic and Systems Biology, Research Associate at the Field Museum of Natural History, and Senior Scientist at the Marine Biological Laboratory. Dr. Gilbert uses molecular analysis to test fundamental hypotheses in microbial ecology. He has authored more than 200 peer reviewed publications and book chapters on metagenomics and approaches to ecosystem ecology. He is currently working on generating observational and mechanistic models of microbial communities in natural, urban, built and human ecosystems. He is on the advisory board of the Genomic Standards Consortium (www.gensc.org), and is the founding Editor in Chief of mSystems journal. In 2014 he was recognized on Crain's Business Chicago's 40 Under 40 List, and in 2015 he was listed as one of the 50 most influential scientists by Business Insider, and in the Brilliant Ten by Popular Scientist.
Wednesday, October 14th
Kishwar Rizvi – Yale University
Iran and Global Exchange in the Early Modern Period
Kishwar Rizvi is Associate Professor of Islamic Art and Architecture at Yale University. She is currently writing a book on cultural production during the reign of Shah Abbas and global early modernity. Among the achievements in the Shah were the establishment of a cosmopolitan new capital city, Isfahan, and global exchange centered on Safavid Iran. Elites patronized new architecture and commissioned beautiful works of literature and painting.  Together, these productions serve as representation of Shah Abbas and provide insights into his role in world history.
Thursday, October 15th
Sheila Molony – Quinnipiac University
Improving the Lives of People with Dementia
Sheila Molony, an authority on aging, geriatric care and dementia assessment, is leading a national conversation about this issue, and her research is changing how health professionals, caregivers and families care for people with dementia. She was among 27 health-care experts whose research comprised the Alzheimer Associations' 2018 Dementia Care Practice Recommendation Guidelines. This year she will be inducted as a Fellow of the Gerontological Society of America and as a Fellow for the American Academy of Nursing.
Friday, October 16th
Lesley Shipley – Randolph College
Contemporary Art Reactions
My research and teaching interests are in modern and contemporary art, with an emphasis on identity, feminism, activism, and abstraction in art since 1960. Currently, I am completing an article that examines the intersection of ethics and aesthetics in two installations by the contemporary Colombian artist Doris Salcedo. I'm also finalizing a paper on a series of reliefs by the American artist Lee Bontecou. I have presented my research at the Feminist Art History Conference, the Annual Conference of the College Art Association, the Asians in the Americas Conference, and the Association of Art Historians Annual Conference in Norwich, England.