Sarah Finley, Christopher Newport University – Hearing Voices of Women Past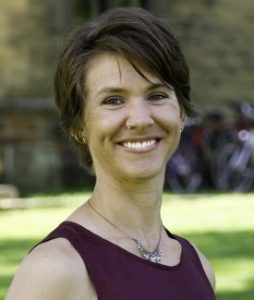 Women are speaking louder than ever in certain areas of society.
Sarah Finley, assistant professor of Spanish at Christopher Newport University, explores how a certain group also spoke loud, but without a voice.
Dr. Sarah Finley is an assistant professor of Spanish at Christopher Newport University, where she also serves as director of the Latin American Studies Program. She holds a Bachelor's of Music in Vocal Performance from Converse College and an MA and PhD in Hispanic Studies from the University of Kentucky. Finley's research draws upon this interdisciplinary background to consider how music-making and sound relate to agency among colonial Mexican women, particularly in a religious setting. She is the author of Hearing Voices: Aurality and New Spanish Sound Culture in Sor Juana Inés de la Cruz (University of Nebraska Press, February 2019), and her work on sound and gender has appeared in national and international academic journals.
Hearing Voices of Women Past

Just as the audibility of women's voices is important in today's society, the topic also resonated with nuns in colonial Mexico. Convent rulebooks mandated reverent silence during meals, prayer and daily chores. Furthermore, ecclesiastical guidelines prescribe a quiet, calm and agreeable demeanor as ideal for religious women. From this perspective, convents were spaces of silence and contemplation.
Nonetheless, other sources offer evidence to the contrary. Tolling bells and liturgical chants ordered daily routine, and accounts of spiritual and quotidian life in religious women's writing are replete with auditory references. Moreover, tales of a thriving music culture behind convent walls contrast with ideas about women's silence.
With these apparent dissonances in mind, I use sources like visual art, descriptions of music-making, ideas about how harmony ordered the divine universe to reconstruct Mexican nunneries' vibrant sound culture.
My first project takes a fresh look at sound in poet and nun Sor Juana Inés de la Cruz's writing. One of the most important authors of the Hispanic Baroque, Sor Juana is known for her defense of women's intellectual pursuits. I examine links among the author's auditory imagery and subjects like acoustics, cognition, writing or visual art to draw out sound's role in re-figuring gender.
Subsequently, I work with music colleagues to bring 18th-century sound cultures to life with lecture recitals.  These concerts tell the story of previously unedited music and attendees delight in unexpected elements.  For example, concertgoers might find themselves singing pedagogical exercises from Mexican women's conservatories. In sum, my research enables voices past to resonate once more with the lively soundscapes of their origin.