Michael Lenox, University of Virginia – Entrepreneurial Ecosystem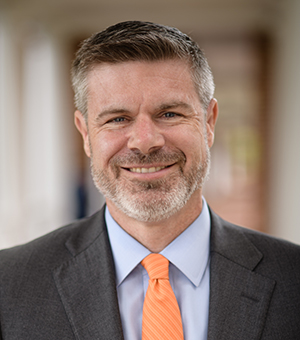 Does your city have entrepreneurship potential?
Michael Lenox, Professor of Business at the University of Virginia Darden School of Business, explores the factors that could help potential businesses.
Professor Lenox was appointed to the Tayloe Murphy Professorship in Business Administration at the University of Virginia's Darden School of Business, where he teaches the core MBA strategy course. He also serves as the Senior Associate Dean and Chief Strategy Officer. From 2008 to 2016, he served as Associate Dean of Innovation Programs and Academic Director of Darden's Batten Institute for Entrepreneurship and Innovation. He helped found and served as the inaugural president of the multiple-university Alliance for Research on Corporate Sustainability. Prior to joining Darden in 2008, Professor Lenox was a professor at Duke University's Fuqua School of Business where he served as the area coordinator for Fuqua's Strategy Area and the faculty director and founder of Duke's Corporate Sustainability Initiative. He received his Ph.D. in Technology Management and Policy from the Massachusetts Institute of Technology in 1999 and the degrees of Bachelor and Master of Science in Systems Engineering from the University of Virginia. Professor Lenox has served as an assistant professor at New York University's Stern School of Business and as a visiting professor at Stanford University, Harvard University, Oxford University, and IMD.
Professor Lenox's research has appeared in over twenty-five refereed academic publications and has been cited in a number of media outlets including the New York Times, the Financial Times, and the Economist. In 2009, he was recognized as a Faculty Pioneer by the Aspen Institute and as the top strategy professor under 40 by the Strategic Management Society. In 2011, he was named one of the top 40 business professors under 40 by Poets & Quants. Professor Lenox's primary expertise is in the domain of technology strategy and policy. He is broadly interested in the role of innovation and entrepreneurship for economic growth and firm competitive success. In particular, he explores the business strategy and public policy drivers of the direction of innovative activity. Professor Lenox also has a long-standing interest in the interface between business strategy and public policy as it relates to the natural environment. Recent work explores firm strategies and non-traditional public policies that have the potential to drive "green" innovation and entrepreneurship.
Entrepreneurial Ecosystem

 Entrepreneurship is a major factor in economic growth for cities around the world. We know that certain factors – culture and capital, programs and policies – are key to fostering entrepreneurship and nurturing a city's entrepreneurial ecosystem.  
While Silicon Valley may be an ecosystem poster-child, my colleagues at the Darden School of Business have been curious about what specific factors drive the emergence of entrepreneurial ecosystems and, equally important, what are the effects of entrepreneurship on the communities they serve?
To answer these questions, we established a research initiative called CIT.ee, short for Cities Innovating Tomorrow's Entrepreneurial Ecosystems, sponsored by Darden's Batten Institute for Entrepreneurship and Innovation.
The CIT.ee project doesn't aim to determine how a city becomes the next Silicon Valley. Instead, we're looking at cities across the country of roughly equal size in order to compare their entrepreneurial paths and potential. We're focusing on the specific factors at play, whether it's proximity to a research university; availability of a highly educated workforce; or access to early-stage capital, to name a few.
For the first stage of the CIT.ee project, we looked at small- to midsized cities in the U.S. Using a combination of in-depth case histories, archival material, and novel primary data, we examined the factors that contributed and, in some cases, did not contribute, to creating thriving, entrepreneurial environments.
Recently, thanks to the work of Asif Mehedi, one of our senior researchers, we introduced the Entrepreneurial Readiness Index.  This index measured more than 20 components of entrepreneurial potential.  This index has helped state policymakers make the case for opportunity-zone designations where new investments may be eligible for preferential federal tax treatment.
Entrepreneurs are uniquely positioned to take charge of their future and that of their city and neighbors. They took a risk and fulfilled their dream, and now it's time to do the same for the place they call home.