Alan Steinman, Grand Valley State University – Phosphorus And Aquatic Ecosystems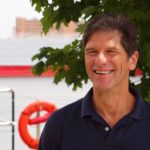 On Grand Valley State University Week: The problem with a water source could be in the soil below it.
Alan Steinman, professor of water resources, digs in.
Alan (Al) Steinman is the Director of Grand Valley State University's Annis Water Resources Institute, a position he has held since 2001.  Previously, he was Director of the Lake Okeechobee Restoration Program at the South Florida Water Management District. Steinman has published over 175 scientific articles, book chapters, and books; has been awarded over $55 million in grants for scientific and engineering projects; and has testified before the U.S. Congress and the Michigan and Florida state legislatures.
Among his awards are Phi Beta Kappa; the 2017 Award of Excellence from the National Garden Clubs; the U.S. Army Corps of Engineers Outstanding Planning Achievement Award; the Joan Hodges Queneau Palladium Medal from the National Audubon Society; Paul Harris Fellow; Keiser Distinguished Lecturer in Life Sciences from Ohio Northern University; and the Patricia B. Johnson Award for Leadership and Innovative Grantmaking from the Community Foundation for Muskegon County.
Steinman is a member of science advisory boards for the U.S. EPA, the International Joint Commission, Michigan DEQ, Sea Grant, Healing our Waters, University of Michigan's Water Center, and the Cooperative Institute for Great Lakes Research.  He currently serves as Associate Editor for the journal Freshwater Biology. He also has served on the State of Michigan's Groundwater Conservation Advisory Council and Phosphorus Advisory Committees. Steinman's research interests include aquatic ecosystem restoration, harmful algal blooms, phosphorus cycling, and water policy.
His current community service includes serving on the Board of Directors of Goodwill International of West Michigan, the Community Foundation for Muskegon County, and the West Michigan Symphony.  Prior board service included the Michigan Chapter of The Nature Conservancy, the Land Conservancy of West Michigan, and Congregation B'Nai Israel.
Dr. Steinman holds a Postdoctoral Research Fellowship from Oak Ridge National Laboratory, a Ph.D. in Botany/Aquatic Ecology from Oregon State University, an M.S. in Botany from the University of Rhode Island and a B.S. in Botany from the University of Vermont.
Phosphorus And Aquatic Ecosystems

One of the main areas of research in my lab is the influence of phosphorus on aquatic ecosystems.  Phosphorus is essential for all forms of life, but in excess, it can negatively impact streams, lakes, and wetlands as it can stimulate algal bloom formation.  Unfortunately, many aquatic ecosystems are being exposed to more phosphorus than they can handle, resulting in problems.  We use a combination of monitoring, experiments, and modeling to determine the most effective way to treat or remove the phosphorus, and restore the systems. 
One example of a recent success story was a former wetland that had been converted to a celery farm.  Once farming was no longer economically viable, the pumps were turned off and the areas allowed to reflood.  However, the soils were so rich with phosphorus that much of it leached into the overlying water, generating phosphorus concentrations about 20 to 30 times greater than the downstream lake to which it was formerly connected.  The original restoration design was to reconnect these flooded ponds to the downstream lake to create new habitat for fish and wildlife, but based on our initial monitoring, it was clear that allowing this mass of phosphorus to enter into the lake would cause problems. As a consequence, we conducted experiments and determined the most effective way to restore the wetland was to dewater the ponds, and dredge the top 3 feet of phosphorus-rich soil from the ponds.  Water was allowed to then refill the ponds to create a flow-through marsh. After refilling, the phosphorus levels had declined dramatically, from about 600 parts per billion down to 30 parts per billion, allowing us to reconnect the wetland to the downstream lake, resulting in both improved habitat and water quality.