Gilbert Metcalf, Tufts University – Carbon Tax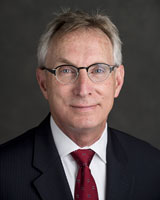 A carbon tax could be a boon to our economy.
Gilbert Metcalf, professor of citizenship and public service at Tufts University, examines how to go about executing this tough task.
Gilbert E. Metcalf is the John DiBiaggio Professor of Citizenship and Public Service and Professor of Economics at Tufts University. In addition, he is a Research Associate at the National Bureau of Economic Research and a University Fellow at Resources For The Future. Metcalf's primary research area is applied public finance with particular interests in taxation, energy, and environmental economics. His current research focuses on policy evaluation and design in the area of energy and climate change. He has frequently testified before Congress, served on expert panels for the National Academies of Sciences and the U.S. Environmental Protection Agency, and served as a consultant to numerous other organizations. During 2011 and 2012, he served as the Deputy Assistant Secretary for Environment and Energy at the U.S. Department of Treasury where he was the founding U.S. Board Member for the UN based Green Climate Fund. He has published extensively in academic journals and books on various topics including energy and tax policy. Metcalf received a B.A. in Mathematics from Amherst College, an M.S. in Agricultural and Resource Economics from the University of Massachusetts Amherst, and a Ph.D. in Economics from Harvard University.
Carbon Tax

Most economists favor taxing carbon dioxide to cut greenhouse gas emissions.  A carbon tax makes fossil fuels like oil and coal more expensive. That, in turn, leads consumers and industries to use less. And, it boosts demand for alternative energy sources like wind and solar powered electricity.   But recent events in France suggest this could be a hard sell.
French President Emmanuel Macron backed down on new carbon taxes in response to violent street riots that shocked the country and left four protesters dead.  President Trump promptly tweeted that the riots confirmed his decision to pull out of the Paris Agreement.  The Wall Street Journal went further by characterizing the Yellow Vest riots as part of a "global carbon tax revolt."  Nothing could be further from the truth.
Fairness is central to the French protests.  Macron's government had previously cut taxes on the wealthy while increasing taxes on working people.  People were already angry.  The hike in fuel taxes poured fuel on those flames. Framing the increase as an environmental tax didn't help. "We're not anti-environmental," a movement organizer said. "This is a movement against abusive taxation, period."
Designed correctly, a carbon tax can cut our carbon pollution, make the tax code fairer, and create jobs. Right now there are more than twice as many jobs in solar technology alone than in coal mining.  It can also help the economy. Despite a roughly $135-per-ton tax on carbon dioxide, Sweden's economy is growing as fast, if not faster than ours.  Meanwhile its emissions have fallen by one-quarter while ours have barely budged.
Clearly a carbon tax will not be an easy political lift.  But there are ways to overcome the political headwinds.  A carbon tax that is revenue neutral, contributes to fairness, streamlines climate policy, and cuts emissions significantly could help.  Economists know how to do this and stand ready to help when Congress is ready to act.