Kalenda Eaton, Arcadia University – Remembering Black Freedom in the Western Hemisphere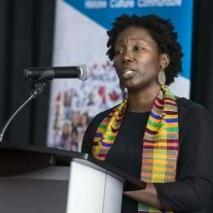 On Arcadia University Week: Each community reflects on the freedom of enslaved people differently.
Kalenda Eaton, associate professor of English, examines how different countries celebrate and reflect.
Dr. Eaton is the current director of the English Graduate Program. Additionally, she has served as a Faculty Senator, and as a member of the: Strategic Planning Steering Committee, Academics Committee, India Initiative Task Force, Promotion and Tenure Committee, and as a faculty representative on the International Programs/College of Global Studies subcommittee of the Board of Trustees from 2012-2016. She was also Director of Global Learning from 2014-2016. With a cohort of faculty at the university, she helped institute the academic minor in Pan-African studies and create Arcadia's Pan African Studies Collective (PASC). Outside the university, Dr. Eaton is a frequent external reviewer for domestic and international academic journals and grant-funding foundations. She is a member and/or officer on several boards ranging from Editorial and Advisory, to Corporate. She has been a member of a Middle States Commission on Higher Education (MSCHE) site visit team and is a MSCHE trained evaluator. Also, Dr. Eaton frequently serves as a resource faculty member and mentor with the Social Science Research Council-Mellon Mays Graduate Initiatives Program.
Remembering Black Freedom in the Western Hemisphere

2020 will mark the fifth year of the United Nations declared "Decade for African Descendants." Large percentages of the descendants living in the western hemisphere are linked by legacies of bondage. As such, there is also great debate on the emphasis we should place on the history of slavery in the 21st century. In many communities the connection between the distant past and the present is acknowledged annually in displays of cultural nationalism and patriotism.
We ask: what does it mean to Commemorate Freedom in the 21st century?
Across the Western Hemisphere the Emancipation of slavery is recognized differently. In the United States, June 19, 1865 was the date enslaved Texans learned they had been freed by the Emancipation Proclamation. Today, in honor of that moment, a series of "Juneteenth" festivals are held in parks, community centers, museums, and churches. These events, while celebratory, are often deeply reflective. Crowds are encouraged to "never forget" as they listen to guiding words about the importance of the past and its impact on the future. Neighboring countries in the Caribbean, South America, and Canada share the date of August 1, 1834, which marks when the British outlawed enslavement in its colonies. Freedom celebrations range from neighborhood street festivals and city-wide parades to reenactments and town hall meetings.
Historical knowledge of one's country and culture is imperative in forging national identity necessary for any society to advance. Emancipation commemorations challenge us to consider if the heart of true liberation is in the memories we piece together.