Marsha Gordon, North Carolina State University – The Water Cooler Event of 1983: The Day After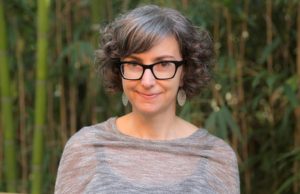 Does art predict the future?
Marsha Gordon, professor of film studies in the Department of English at North Carolina State University, says a nuclear disaster movie from the 1980s rings true today.
Marsha Gordon is the author, most recently, of Film is Like a Battleground: Sam Fuller's War Movies (Oxford University Press, 2017) and is currently completing a book on Race and Nontheatrical Film for Duke University Press, co-edited with Dr. Allyson Nadia Field. Gordon does a monthly show, "Movies on the Radio," with NC Museum of Art film curator Laura Boyes & Frank Stasio, on 91.5/WUNC's "The State of Things."
The Water Cooler Event of 1983: The Day After

"The Day After," a fictional, made-for-TV movie that imagined a nuclear attack on American soil, aired on ABC on November 20th, 1983.  Although dated and artless in many ways, it forced audiences to consider a scenario in which America's policy of nuclear deterrence fails and Midwesterners grapple with devastating post-blast repercussions.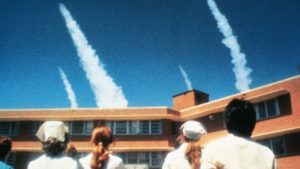 By all measures, the movie's airing was a major media event. An estimated 100 million viewers tuned in. The White House phone lines were jammed and ABC headquarters in New York received more than 1,000 calls during its East Coast broadcast.
It was also controversial even before it aired, with critics like Tom Shales of The Washington Post deeming it "the most politicized entertainment program ever seen on television."
Pro- and anti-nuclear groups used the movie as a rallying cry for their positions. An Oct. 4, 1983 Los Angeles Times article detailed a "conserva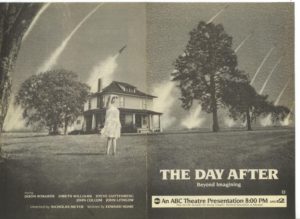 tive counteroffensive" that attempted to "discredit the film and write it off as a media conspiracy against Ronald Reagan's strong defense posture." Reagan supporters also hoped to defuse potential public backlash against American nuclear missile proliferation in Europe.
Immediately after the movie's broadcast, Ted Koppel moderated a riveting discussion that featured Henry Kissinger, Elie Wiesel, William F. Buckley, Carl Sagan and Robert McNamara. During this special edition of "Viewpoint," Secretary of State George Shultz told audiences that "nuclear war is simply not acceptable."
In the early 1980s, of course, it was the Soviet Union that posed the nuclear threat to America. The most prescient and horrifying questions from the audience and responses from the panelists on "Viewpoint" anticipate a future that's eerily indicative of where we are today – a time of multi-state nuclear capability, where one unstable leader might trigger nuclear catastrophe.
Watch:
The Day After
Viewpoint, post-The Day After discussion