Jennifer Francis, Rutgers University – Extreme Winter Weather and Climate Change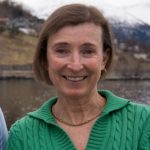 Global warming can also make you cold.
Jennifer Francis, research professor in the department of marine and coastal sciences at Rutgers University, explains why extreme winter weather is also a part of climate change.
​​Jennifer Francis earned a B.S. in Meteorology from San Jose State University in 1988 and a PhD in Atmospheric Sciences from the University of Washington in 1994. As a professor at Rutgers University since 1994, she has taught courses in satellite remote sensing and climate-change issues, and also co-founded and co-directed the Rutgers Climate and Environmental Change Initiative. Presently she is a Research Professor with the Rutgers Department of Marine and Coastal Sciences where she studies connections between climate change and extreme weather.
Extreme Winter Weather and Climate Change

Winter roared into the eastern U.S. last December. The extreme cold hung around for nearly three weeks before ending with a bomb – literally. The public learned that a "bomb cyclone" is a real meteorological thing: a storm that intensifies faster than 24 mb in 24 hours. Meanwhile, several western states were dealing with opposite conditions: extreme heat and drought. Weather weirdness spanned the nation, continuing Mother Nature's rampage that racked up over 300 billion dollars in damage during 2017, the most expensive year ever for the U.S.
Extreme weather is not new, of course, but we've seen a substantial uptick in its frequency lately all around the globe. Think hotter heat waves, heavier downpours, more intense droughts, longer wildfire seasons, and more frequent coastal flooding. Research shows that all of these extremes have been boosted by climate change. But what about those cold spells and snow bombs? Can global warming fuel extreme winters? Ironically, yes – and perhaps even more surprising, there's a connection to the rapidly melting Arctic.
We're learning that when the right pattern of ocean temperatures off the west coast teams up with major sea-ice retreat north of Alaska, this winter's pattern is more likely to occur and to persist. Some shivering easterners have used recent cold spells to dismiss global warming, despite the mountain of scientific evidence that says the past decade was the Earth's warmest in thousands of years. We know that the loss of three-quarters of the Arctic's sea ice volume in only 40 years was caused by extra heat trapped by gases released from burning fossil fuels. As we continue to emit these gases, expect further Arctic warming to make all sorts of weather conditions stick around longer – be it hot, cold, wet or dry – any of which can become extreme.