Laird Kramer, Florida International University – Interactive Learning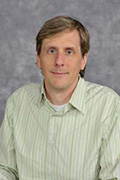 Many students do not expect to do well in a physics course.
Laird Kramer, professor of physics at Florida International University, determines a new approach to increasing student optimism.
Laird Kramer is an Professor of Physics at Florida International University, a minority serving public research institution in Miami, FL. In 1996 he joined the faculty as a nuclear experimentalist and has in recent years turned to building a transformational education outreach model. Since 2003, he has led the Education Outreach component of CHEPREO, the Center for High Energy Physics Research and Education Outreach. CHEPREO uses its high-energy physics base as fertile ground for an extensive education and outreach effort based in diverse South Florida. CHEPREO-led efforts have transformed the undergraduate physics experience at FIU, creating more and better prepared majors by empowering students through the implementation modeling instruction-based studio physics courses, establishment of student-centric methodologies, and establishment of a high school/university research and learning community. These reforms have led to a rapidly growing PER group, the awarding of a PhysTEC Primary Partner Institute to FIU in 2007, and a recently awarded Noyce Fellowship program that encompasses mathematics, chemistry, earth sciences, and physics programs. The efforts have also served as basis for recent reforms of the secondary education science and mathematics programs at FIU, led by the PER group.
Interactive Learning

Mistakes are an essential part of learning. In a traditional lecture hall, there is little to no opportunity for a student to delve into an idea and try it out as information is being broadcast at a dizzying rate. Further, when a student walks into a class not expecting to do well, they have a preexisting barrier to learning and the student is actually less likely to pass.
Universities across the nation are breaking the traditional education model where students are expected to passively absorb knowledge and then take an exam in order to give students the opportunity to learn the skills that are essential for post-graduation life.
Two of the most difficult fields for students are STEM subjects – science and mathematics; reported pass rates run around 50 percent but there are cases of pass rates as low as 20 – 30 percent.
Students need to be encouraged to work together, to learn together.
For example, one of the most reliable outcomes in a traditional physics course is that by the end of the course, students will have a less favorable attitude toward physics and physics learning. In the best physics courses, students break out of the mold and use the practices of real life scientists to discover the laws of physics. That means, working together in groups tests and formulating their ideas. Numerous findings are showing that by the end of the course, students enjoy physics and they are 40 percent more likely to pass.
Using similar approaches to engage students in mathematics, institutions have transformed courses to improve pass rates. Where 70 percent of students once failed college algebra, now 70 percent are passing!
This collaborative environment allows students from different backgrounds and varying degrees of preparation to learn through capturing each other's great ideas and share "ah ha" moments.