Teresa Gonzales, Knox College – Play and Public Space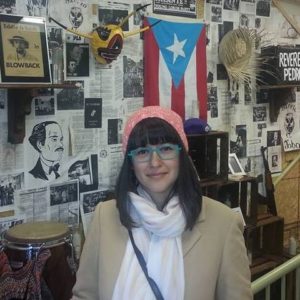 Are you getting enough play time?
Teresa Gonzales, assistant professor of sociology at Knox College, explores how play isn't just for kids and how it can be used to make better communities.
A native of Mexican-Chicago, Teresa Irene Gonzales is an Assistant Professor of Sociology at Knox College and a regular contributor to everydaysociologyblog.com.  During the 2017-2018 academic year, she is a Woodrow Wilson Early Career Fellow and a Research Associate at the Five College Women's Studies Research Center at Mt. Holyoke College. Her research focuses on the intersection of organizational ecology, urban studies, and community development within the United States. She believes in community-engaged pedagogy and scholarship, and strives towards a practice of reciprocity in research. Her current project, which draws on 27 months of ethnographic data, examines how organizational ties to national intermediary organizations influences the distribution of resources to low-income urban neighborhoods within Chicago. Her project highlights the complex, and oftentimes contradictory, political and economic development goals that community organizations encounter when they partner with external intermediary organizations and funders. Her future projects analyze the impact of women of color on community organizing, the importance of adult play in creating black and brown counterpublics, and the barriers to inclusion within rural redevelopment initiatives.
Play and Public Space

We tend to think of play as a social action: playing dress-up, playing sports or playing make-believe. Play, however, also provides a space for community-building, and can help to foster civic engagement, and diffuse tense situations whether during public protest or between neighbors.
Play can also be used by individuals as a tool to both struggle against exclusionary practices and form counterpublics – whereby marginalized folks can tell their own stories, create counternarratives, and develop new ways of thinking and being. This use of play and the imagination allows us to look at the world around us, and reimagine it in ways that may not seem possible.
Within Chicago, residents and grassroots organizations within high-crime neighborhoods use play and playfulness in order to foster a deeper sense of community and as a way to reshape public spaces. It's also used to highlight neighborhood assets and resident skill sets, and to create spaces for dialogue, and sociability in spaces that are so-called unsafe. These groups focus on joy (rather than violence) by reclaiming public space through positive loitering campaigns. While loitering is linked to aimlessness and crime, positive loitering is done to purposely reclaim public space from criminal activity.
This is accomplished through reimagining public streets, sidewalks, parks, and abandoned lots as spaces for music, dancing, eating, skateboarding, basketball, and just having fun. These types of activities provide residents of high-crime areas with opportunities to both learn new ways of using their neighborhoods and connecting with other residents, and, also, to unlearn behaviors that prevent them from going out, enjoying public space and engaging in placemaking on their own terms.
Read More:
Everyday Sociology