Adam Blackler, Black Hills State University – Germany, Genocide and Namibia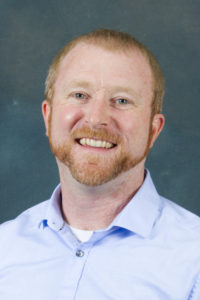 There is still one genocide Germany has not taken responsibility for.
Adam Blackler, assistant professor of history at Black Hills State University, says Germany's actions in Africa need to be recognized too.
Adam A. Blackler is an Assistant Professor of History at Black Hills State University. His research explores how colonial encounters in Southwest Africa led Germans to fashion an imperial image of the Heimat ideal. Dr. Blackler has presented his research at numerous national and international venues, including the German Studies Association, German Historical Institute in Washington, D.C., and the Freie Universität zu Berlin. His research has been funded by a variety of organizations, including the University of Minnesota and Black Hills State University, the Deutsche Akademische Austauschienst (DAAD), and the Central European History Society.
Germany, Genocide and Namibia

Genocide is a familiar topic to Germans. Today, it is nearly impossible to visit Germany and not confront remnants of the darker chapters of the country's history. Countless memorials, museums, and historical sites all serve as physical evidence of a Nazi "past that will not go away"—a past that most Germans acknowledge should not go away.
But what about Germany's other genocide? My research explores Germany's colonial project in southern Africa during the nineteenth and early twentieth centuries. Between 1904 and 1908, German colonial soldiers carried out the first genocide of the twentieth century in what is now the present-day African state of Namibia. This systematic campaign against Herero and Namaqua peoples—regarded by some scholars as the "Kaiser's Holocaust"—claimed the lives of over 100,000 men, women, and children through starvation, imprisonment, exile, and mass murder. After the genocide, German colonial leaders created an apartheid state in colonial Namibia, passing bans on "mixed-marriages," constructing so-called "native settlements," and delineating citizenship along racial lines.
Though the Herero-Namaqua Genocide is well-known among historians, the German government has never officially acknowledged the mass murder as an act of genocide. That historical omission is about to change. In July 2016, the Frankfurter Rundschau reported that an official document prepared by the German government "for the first time recognized the Herero and Nama massacre as a genocide." Chancellor Angela Merkel's office also confirmed in July that Germany would formally apologize to Namibia and surviving descendants of the genocide.
By commemorating the memory of those who died in the genocide, Germany will take an important step to teach people about the Herero-Namaqua Genocide and its on-going consequences in Namibia today. It will also extend more public attention to a crime that has been in the shadows for too long outside of southern Africa.